In private one-on-one coaching calls, I always ask this question to the paying client when their business is currently off-roading in deep mud, on a slippery trail to nowhere…
So what is security business know for?
And please don't say "QSD" Quality, Service, and Dependability.
The typical response:
"But after a long 5 minute pause of but…but…but… I was gonna say Quality, Service, and Dependability… but…but…now I don't what to say."
QSD Is The Highway To Lower Profits, Lower Margins, and No Vacations
Here me out, "QSD" is just baseline to having a pulse in business today. That's the bare bones minimum your suppose to be doing if you want to keep the doors open, but not necessarily making a healthy profit or something you can build a nest egg with for retirement.
Quality, Service, and Dependability, doesn't lead to over the top "WOW" knock your socks off client experiences that turn your clients into raving, fanatical fans that refer their family members, colleagues, and business associates to your security company. Or that they race over to Facebook, Twitter, Google +, Yelp, and tell folks that your company is the best thing since sliced bread.
Nah… Quality, Service, and Dependability leads to a pretty mundane business and a skimpy lifestyle.
Hey, don't get me wrong Quality, Service, and Dependability are very important, but it's not enough it today's treacherous business environment if you want to standout out as the transformational security company that offers legendary service and follow up.
Look Outside Your Industry For Transformational Ideas
When you think about companies that truly deliver an over the top overwhelming client experience. I immediately think of Nordstroms, Ritz Carlton, and Disney. These companies put a premium on the quality of the client's experience, and they also stake their reputation on the line.
To work at Disney, an employee has to attend Disney University, an intense crash course in the their service systems. Employees are taught all the essential facts, memorize park layout, and are instructed on how to keep their energy high and attitude right. The Disney philosophy is: "The front line is the bottom line." The average visitor saves for two-and-a-half years before making the pilgrimage to the Magic Kingdom.
Joe Average Prospect Has You By The Balls!
The average homeowner or business owner is looking at 3-4 different security companies before making a buying decision for their residential or commercial security needs. How can you ensure your team delivers wunderbar (This is German: Marvellous, wonderful, terrific, cool, something exceptionally good.) service to your clients and prospects?
Before – After – During Business Models
The interesting and plain truth is when you systematize your marketing efforts to a higher degree and higher standard than your competitors, and you deliver a comprehensive "Before – During – After" client experience, then, and only then, can you raise your rates and your profit margins.
And isn't this what you're after in the first place…? More money, and a lifestyle that is second to none.
Invest 5 Minutes A Day
If you spend 5 minutes a day thinking of ways to make your clients' and prospects' lives better – things that might benefit or interest them (not you) – you will find it the best ROI you ever made.
Keep Reading for some more money-making tactics and strategies in this months Smokin' Security Newsletter.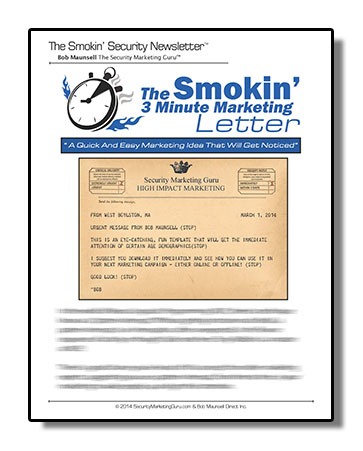 The 3-Minute Marketing Letter
In the world of Neuro Linguistic Programming (NLP), there's a technique know as a "pattern interrupt." Without getting into too much detail, a pattern interrupt is an interruption, often unexpected, in the flow or sequence of activity or thought (side note here: Tony Robbins is a master at NLP.) There's a good chance you've heard of this concept from other marketing experts, suggesting you use a pattern interrupt, from time to time, in your marketing to wake people up and get their attention.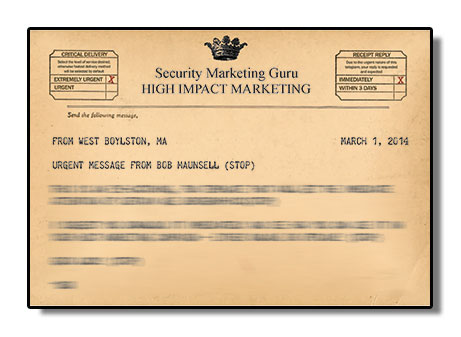 The 3 Minute Marketing Template I'm delivering to you this month does the same thing, especially for an older demographic, but it will also wake up the younger pups, too. It's my customizable telegram template and I guarantee if you use this in your marketing, it WILL get noticed.
Diners, Drive-Ins, and Dives
You should be taking the Guy Fieri approach for your security business, especially when you're traveling or even if you're running around town. Guy is a "FOOD EXPERT" and you are a "SECURITY EXPERT." (Fiery Hot Template Inside To Model For Your Security Business.) This is a clear shot to becoming a local security guru… folks want to be led and taught by an expert.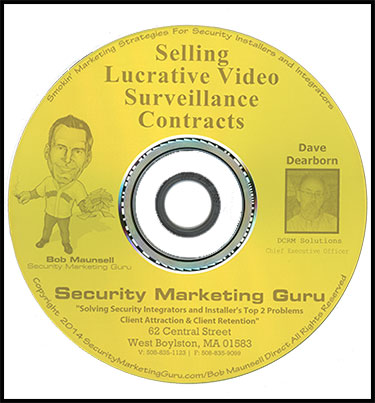 Selling Big Ticket Monitored Video Surveillance Contracts (Audio Success CD)
Need I say any more… Listen to this audio success CD, and you'll have fireworks going off in your head, when you understand the possibilities of selling monitored security systems to your clients.
Special Report # 1 – 5 Point Checklist To Solidify Relationships & Encourage Referrals
Steal This Idea From The Boston Red Sox
Discover how the Boston Red Sox surveys 38,000 people a day at Fenway Park… This is an absolute wicked killer way of doing surveys.
How To Shot Videos On The Fly
It soooo important to be shooting videos for you security business and posting them online for SEO and educating your clients. Some people get hung up on shooting videos (myself included). This is the absolute shortcut to shooting videos on the fly!
Stay Awesome!
Bob
P.S. June starts in a week are you even close to reaching your sales goals?
P.S.S. If you wanna reach your sales goals then become a bonafide member of my Smokin' Security Newsletter Coaching Club Program!