I spent this past weekend in Saratoga Springs (upstate NY) at the horse races with my good friend John, who is a horse racing enthusiast. If you ever get a chance, you've gotta check out Saratoga during the horse racing season. Plenty of things to do… lots of upscale restaurants, spas, nightlife, entertainment, and a venerable cigar smoking crowd.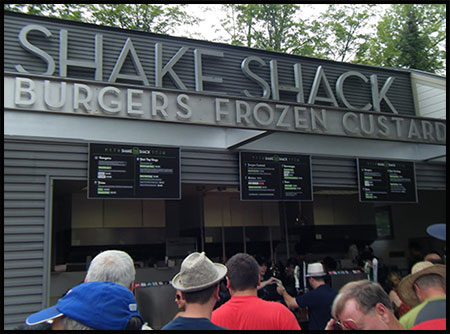 33rd Person Standing In Line!
One of the places that caught my fancy was the SHAKE SHACK burger joint which is located on the grounds of the Saratoga Race Track. I've heard nothing but good things about the Shake Shack, so I was eager to try it out. The only thing was the line at the SHAKE SHACK, was so friggin' long! When I stepped into the line, I counted and found myself being the 33rd person in line. The holy grail in any business is to have folks standing in a long line begging and hoping that you take them on as a client.
I could have easily gotten out of that line and walked over to the empty line that was serving government cheese sandwiches for 99 cents. No siree! I was hell-bent on getting a fixin' of the following:
SHAKE SHACK Burgers – 100% all-natural Angus beef. No hormones or no antibiotics ever. Our proprietary Shack blend is freshly ground. All burgers are cooked medium heat unless otherwise requested.
2 x Single Burgers @ $6.25 = $12.50
Fries – 100% free of artificial trans-fats.
1 x Large Frie @ $4.25 = $4.25
Frozen Custard – Our dense, rich and creamy ice cream – spun fresh daily right here at the Schack. Our vanilla and chocolate recipes use only real sugar, no corn syrup, and milk from dairy farmers who pledge not to use artificial growth hormones.
1 x Hand-Spun Chocolate Shake @ $5.75 = $5.75
Total with Tax = $24.75
Tip – $2.00
Lunch Total – $26.75
I gotta tell yah, I wolfed that meal down like the Big Bad Wolf and boy was it dang good! I'm guessing that I could have picked up the same meal, a couple of cheeseburgers, large fries, and chocolate shake, from Mickey D's for about $5.75. But why would I settle on Mickey D's when I could have the Shake Shack, it makes absolutely no sense.
Acres of Diamond Mind In Your Own Backyard
I'm always astonished when I hear folks devaluing their services, thinking that folks won't pay top dinero for their security services such as: locksmithing, fire systems, CCTV, guard services, home entertainment | lifestyle management systems, electrical & low-voltage services, energy management, satellite, whole house audio, central vacuum, etc.
High – Medium – Low Prices
So you're telling me that folks will only pay top dollar for the likes of a Rolex, BMW, Audi's, Bang Olfsen, Whole Foods, Wegmans, Nordstroms, Mortons, Capital Grill, NOBU, Ralph Lauren, Lacoste. But they won't pay top dollar for your security services, give me a friggin' break. The only human being that thinks like that has the mindset of a peasant from the middle ages.
So what you're telling me then is that the security systems you install aren't nearly as valuable, or your company isn't as valuable, or your techs aren't as valuable as a high-end jacket from Barneys?
What's it going to be…
The only one you can blame about your pricing models is YOU!
The only one you can blame about your razor-thin-margins is YOU!
The only one you can blame about being perceived as a low-cost security provider is YOU!
Remember that your PRICES make a statement about YOU — a statement about the quality of your work and your security systems. If you tell someone that your security services are "el cheapo," they believe you in every sense of the word. Low prices make a diminutive statement about YOU. High prices also make a statement about YOU: A positive, salutatory statement about YOU.
In every marketplace in the world you have a High – Medium – Low service provider. The high priced dentist who charges a king's ransom to do cosmetic dentistry, and then you have a medium priced dentist who can do the same cosmetic dentistry work, and then you got your low-priced carpetbagger of a dentist who'll do it cheaper then anyone else in town.
Just pick any industry: restaurants, plumbers, podiatrists, lawyers, lawn care, carpet cleaners, electricians, HVAC, chiropractors, carpenters, IT, etc. You always have the High – Medium – Low service providers and the consumer chooses the bed they want to sleep in.
I can tell you this… my members are booked up solid (weeks in advance) with clients that are willing to pay top-dollar for their security services.
Here's An Interesting Story From A Security Entrepreneur In Pennsylvania Who Has Clients Standing In Line "BEGGING" For His Security Services!
Wayne Shear who owns and operates Shearer Security & Locksmith in Harrisburg, PA. Is a Smokin' Security Newsletter Coaching Club Member and he also invested in the residential "Home-Safe-Home" Security Inspection Marketing Kit (which included my incredible 32 Point "Home-Safe-Home" Security Audit.) Wayne has been seriously kicking A$$ with the products he has devoured from SMG and his coaching club membership.
I was on the phone with Wayne and he told me that his days of selling nickel & dime security systems were long gone. With the "Home-Safe-Home" Security Inspection Marketing Kit, his new "niche" is high-end local residential markets.
I was laughing out loud when he told me his secret, totally FREE way of finding the "gold veins" in town… and yes they existing in every town in the world. If you want to find out what Wayne's secret method is, you'll need to join my Smokin' Security Newsletter Coaching Club because it will all be revealed in the September issue of the SSN monthly newsletter.
Wayne creates a "Halo Effect" so he isn't priced gouged, nickel & dimed, pulled through the ringer, beaten like a two-bit prostitute down on her luck. His clients take his recommendations and then some. Instead of being an equipment peddler, he's perceived as a knowledgeable, trusted, and rarefied local security expert.
Boys and girls, it all starts with target marketing and lead generation and delivering my world-class 32 Point "Home-Safe-Home" Security Audit to your target market – that's the name of the game to naming your own prices!
Here's an email from Wayne…Read what he has to say:
The Response was Overwhelming…


Hey Bob,

I've done mailing campaigns before – with poor results, but with Bob's materials (the Home-Safe-Home Marketing Kit and his Books/eBooks) the response was almost overwhelming! It has forced me to work on my business not in it. I love the regular weekly emails with information of things to better my marketing.

Thanks Bob & Your Staff.

Wayne Shearer
Owner
Shearer Security Devices
Harrisburg, PA.

Bob, Please Do Not Contact My Competition – LOL!

Wayne Shearer Shearer Security Devices – Harrisburg, PA

LOL… Wayne's smile reminds me of the satisfying meal at Shack Shack.
P.S. The keys to the kingdom are easily within your reach. If you're dead serious about transforming your security (residential, commercial, locksmith, guard service) business, give my office a ring on the telly at 508-835-1123 or email Support@SecurityMarketingGuru.com. If you're international, Skype us at SecurityMarketingGuru and ask for Jodi or Rick.
P.S.S. – You have two muscle groups. The "ACTION" muscle makes you money, and the "PROCRASTINATION" muscle leaves you mired in debt.