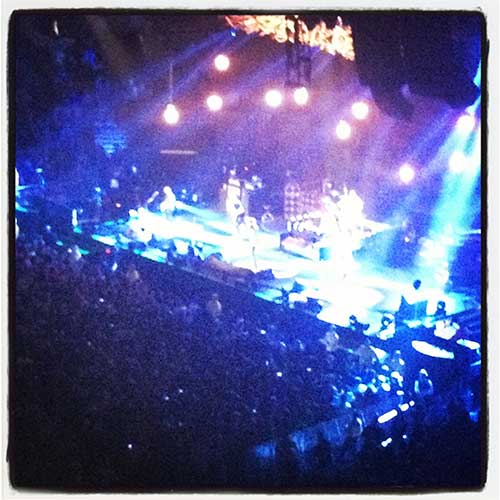 I was at the DCU Center in Worcester last night to see the band Pearl Jam. The last time I saw Pearl Jam was in 1994 on the "ANIMAL" tour back in the old Bawston Gahden (Boston Garden) days. Pearl Jam was just as good as the last time I saw them, and if not better this time around.
Pearl Jam played a blistering 2 hour and 41 minute set in front of 12,000 people where they delivered a "WOW" Rock n' Roll Experience. I can say everyone left the building pretty dang satisfied and exhausted.
The Power of a WOW Experience
Disney most often comes to mind when talking about THE WOW! EXPERIENCE because of Walt Disney's mantra:
"Do What You Do So Well – And So Uniquely – That People Can't Resist Telling Others About You." – Walt Disney
Simply put, your clients, customers, prospect come away from your:
– Security Companies Meetings
– 32 Point Security Audits
– 73 Point Security Audits
– Webinars
– Trade Shows
– Service Calls
– Inbound Phone Calls To Your Office
– Outbound Phone Calls
– Client Appreciation Days
– Technicians
– Sales Reps
– Office Staff
– Client Appreciation Days
– Rapid Response To Emergency Service Calls
– Sharply Dressed Technicians Uniforms.
– Free-Loaner Equipment
So thoroughly impressed with you and your security company, and for having a much better experience than anticipated, that they are compelled to shout from the mountain tops about how friggin' awesome your security business is.
In my humble opinion and experience, this rarely happens, but when it does, that security business thrives and prospers to maximum capacity. In other words, this is how you want to conduct your business and your life.
I'm Outta Here – But Got A Nice Little Parting Gift For You…
It's late… I gotta go… Have to catch a 0600 flight out of Boston to South Beach, Florida for the ASP Summit, where I'll be speaking on a panel titled "Lead Generation For The 21st Century." But I want to give you a little parting gift before I go…
A Free Security Business-Building & Strategic Marketing Makeover
For those of you who would like to get a little extra help in discovering what's needed to increase your installations and cash flow and to get your business growing and moving in the right direction, then REGISTER for your free Makeover with Jodi, our Security Marketing Expert.
The very quickest way to get "un-stuck" and take your security business to the next level is to let Jodi pinpoint exactly what's going on that's holding you back in your security business-building and marketing efforts. And at the same time, she will also reveal specific new security marketing strategies you should be using, and explain how to use them correctly in your business.
If you'd like to take me up on our Free Security Business-Building & Strategic Marketing Makeover to identify your business's marketing and business-building shortfalls and discover what is needed to grow your security business, then click the link below and register for your free makeover TODAY!
FREE MAKEOVER
Stay Awesome!
Bob
P.S. – If you would like a FREE Security Marketing Makeover, while I'm smokin' a nice, fat stoggie in South Beach, please CLICK HERE.