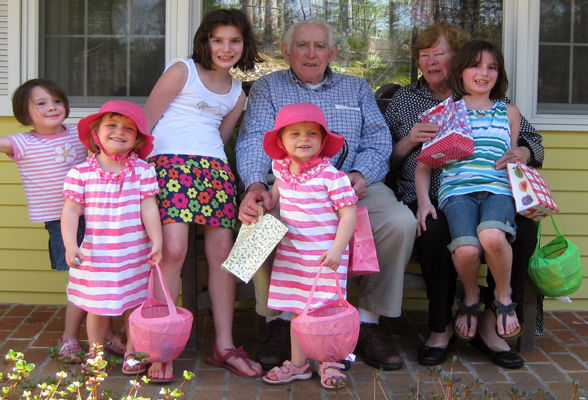 Nana and Papa Maunsell with all their grandchildren.
It's going to be gorgeous up here in Massachusetts (in the 80's) for the Easter weekend…a rarity in these parts!
On Sunday, I'm having my whole family over on for Easter and we're going to have a massive Easter egg hunt on my front lawn.  My wife has stuffed over 150 eggs with candy!  My parents get a kick out of watching all the grandkids running around filling their baskets with pretty-colored eggs.
I remember back when I was a little tyke and would jump out of bed on Easter morning and scavenge my parents house for Easter eggs.  My favorite Easter eggs were stuffed with Swedish Fish, Hershey Kisses, and Milk Duds.
Today the Easter eggs that I look forward to receiving are not chock-full with candy (who am I kidding, I still like candy filled Easter eggs), but are quotes of wisdom that can be used to illuminate the nooks and crannies of your mind, and take your thinking to a new dimension.
Theater of the Mind
If you were with me, right now, inside my writing room, you'd see my walls are plastered with with pieces of paper that include quotes, ideas and prompts, that I've collected over the years, and use for writing tidbits.  These pieces have also helped me with my business philosophy.  I call my writing room "the theater of the mind room."  Walt Disney had an enriched room like this where he'd house his ideas and storyboard his projects.
So are you ready for my little Easter egg hunt?  I've filled colored my favorite colored eggs with quotes of security marketing and business-building wisdom…so let's go hunting!
My Favorite Easter Eggs Colors…
Lilac Easter Egg – In business your only as successful as the options you selling, you don't want just one sales rep handling all your sales or one media (e.g.  only using Yellow Page ads) for attracting new prospects to you business, because you will not be in control of your own destiny.
Mocha Easter Egg – Customers and clients cannot buy from you if you do not tell them what is for sale.
Teal Easter Egg – To become a security industry leader, you've got to see the future before it arrives.

Cyan Easter Egg – Even your WORST competitor has one or two ideas from which you can benefit.

Raven Easter Egg – Your techs and your office staff are your products and nothing else.
Purple Easter Egg – True entreprenurial genius is getting customers and making sales without having to use a whole heck of lot of capital to do it.
Orchid Easter Egg – Courage is the battle of life…this is a quote from my Dad!  You need the "Wizard of Oz" management skills today – brains, courage and heart!

Royal Blue Easter Egg – When you master your security marketing, you've mastered your whole business life.

Cardinal Easter Egg – Promoting your security services should be a consistent part of your daily business activity, whether you need new clients or not.

Mango Easter Egg – If your security business depends on you being there, you don't have a business – you have a job.

Lavender Easter Egg – Always do more then you get paid for. Jim Rohn

Sea – Green Egg – There is only one reason for not being wealthy and independent, and that's neglect. Failure is subtle.

Jade Easter Egg – Most people fail in life cuz they major in minor things! – Tony Robbins

Citron Easter Egg – Don't be a cheapskate in acquiring knowledge that can make your business grow.  If you wish to succeed and remain successful, you must be a student for a lifetime.
Pewter Easter Egg – You are exactly where you really want to be.
Goldenrod Easter Egg – You are measured by the size of the problem you can solve.
Fuschia Easter Egg – The challenge is not merely to outdo your competition, but to outdo yourself!

Chartreuse Easter Egg – Most security dealers and electronic system installers look at there company as a source of income. They forget that it's a major ASSET…probably their most valuable and, like any asset, it needs to be maintained.

Coral Easter Egg – There is no passion to be found in playing small in settling for a life that is less then what you are capable of living.
Hope you found an Easter egg or two that you can use!
Have a Gr8 weekend, and I'll talk to you soon!