Over the past year, I've been battling golf and tennis elbow (severe tendonitis) and I don't play either sport – go figure. I got it from Crossfit, my MacBook Pro, and not having the proper work surface (i.e. desk).
I would have paid almost anything to make it go away… So I went for a Deep Tissue Massage and my massage therapist, Annie, highly recommend CLT (Cold Laser Therapy). Annie said that it worked awesome on Tendonitis and other ailments. Cold Laser Therapy or Low Level Laser Therapy (LLLT) is a treatment that utilizes specific wavelengths of light to interact with tissue and is thought to help accelerate the healing process. It can be used on patients who suffer from a variety of acute and chronic conditions in order to help eliminate pain, swelling, reduce spasms and increase functionality. In other words, it can help a lot of people.
I'm glad as heck Annie educated me on CLT, because I never heard of it before. After 4 treatments I was good to go and back at Crossfit hitting it hard. I was so happy and satisfied with the treatment, that I referred three other people from Crossfit to my CLT specialist.
Now here's the funny part of all this…
I was telling my Chiropractor, Jim, about my CLT treatments and how much relief I received from it.
Chiro Jim was looking at me kinda funny when I was telling him about it and then he said to me, "Bob, don't you know that I do CLT? I have a $12,000.00 Cold Laser machine in my office!"
I said to Jim incredulously, "I've been coming to you for 5+ years now and you never once told me about CLT or your $12K CLT contraption!"
Email Is The Dirt Cheapest Way To Communicate With Your Clients & Prospects
I also said to Jim that you have never once sent me an email from your office extolling the benefits of CLT and your CLT machine. And, besides, do you EVEN have my email address on file?
Paper & Ink Client Newsletter Is The Best Way To Communicate With Your Clients & Prospects As A High-End Company.
Plus, I said to Jim that you have never once sent me a newsletter from your office educating me on all the new stuff you have that can fix me. And I know you have my physical mailing address. I get a bill from you in the mail, but no flyers inside with a special offer or an educational piece.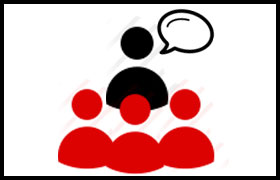 The Security Business Owner's Voice
In my humble opinion, the "The Security Business Owner's Voice" is communicating with his clients and prospects and extolling the virtues of his most prized A$$et (i.e. his or her security business). If you're not going to shamelessly plug and promote your security business, no one else will.
You should always be communicating….
You bought a new building.

You've expanded your service territory.

Added a Fire Alarm division.

Are looking for new service technicians.

Spotlighting a new client install.

Showcasing your office manager.

Introducing the office dog.

Your tech just had a new baby.

New Service Contract Program.
The list goes on and on.
Don't be like my Chiropractor, Jim, who lost out on CLT from me, plus he also lost out on the three referrals that I didn't send his way. This is really unacceptable – no business should be losing out because it's not educating its client base.
If you'd like a customized plan for 2017 on how to educate your clients (and prospects), and market your security business more effectively, then register for our free Security Marketing Makeover today!
Stay Frosty!
Bob