Rick Miller and I had a killer time at the Electronic Security Technology Summit (ESTS) in Colorado Springs, CO. It was held again this year at the incredible Broadmoor resort. This year, we decided to visit the Air Force Academy and take a drive up Pike's Peak (what a mistake!) My God what a scary situation. It started snowing when we got there and they closed the road down right after us. As we drove up Pike's Peak, the road turned so slippery and treacherous. It was a sheer cliff at the side of the curving road. I really didn't think I was gonna make it back alive and kissed the ground when we got back down. During our stay in Colorado Springs, we also ate some outstanding restaurants in town. Colorado is such a beautiful state, if you ever get the chance, visit.
At ESTS, I had a conversation with a super-successful security entrepreneur, Jamie Kerth from Independent Alarm, and as we were marveling over drinks at how glamorous and luxurious this breathtaking resort is, Jamie asked me, "Bob, how come you have never written about The Broadmoor in any of your publications (free or paid.)?"
I told Jamie that's a great idea and that I can't believe I haven't written about The Broadmoor – I've been to this super classy joint two times now.
So here goes…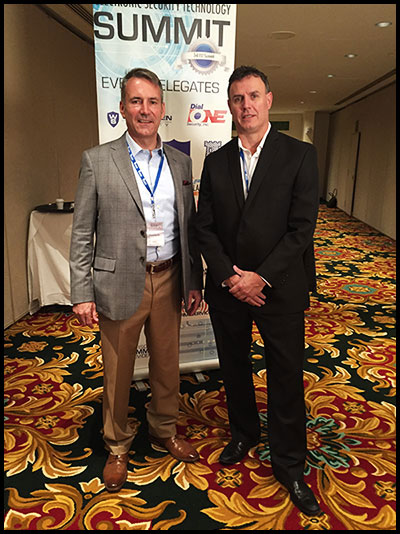 The Thank You Economy
The reason I went to the ESTS was to conduct a marketing training seminar called Branding & Selling Your Security Services In An Online World (if you weren't able to attend, and want to know how to sell security services online, then you can request the incredibly informative & educational handout from the class, by responding to this email.)
During my seminar, that I did with my sidekick Rick Miller, one of my talking points was: in this crazy online world, how much of your marketing is done offline?
I asked the audience in the room to raise your hand if you actually send out a Thank-You Card to all new clients that just had a security system installed. Out of the 30+ folks in the room, I believe only one person raised their hand.
My point was that everyone in the room is looking for more SEO traffic, retargeting ads, FaceBook likes, PPC, but the easiest way for you to grow organically is by saying "Thank You" to someone who just forked over money to your company, and by sending them an old-school Thank You Card by way of the good ol' U.S. Postal service (BTW In case you didn't know "Thank You Cards" work in any part of the world.)
And then I went on to say, look at the interaction from The Broadmoor staff. Now, I could go on and on about the high-thread count sheets, or having my sheets turned down, and new water bottles put in the room, and the little chocolate bars that were next to my pillow each night. All this is certainly impressive, but what really blew me away was how many times throughout my three-day stay, did the entire staff of The Broadmoor say the following phrases:
-Thank You
– Good Morning
– Good Evening
– How are you doing?
– Where are you from?
– Are you enjoying your stay at The Broadmoor?
It's still so rare for anyone to be personally acknowledged by a security company that the IMPACT of receiving a polite gesture can be HUGE to your bottom line. Everybody is looking for the magic bullet to increased sales growth and increased RMR, but I'm begging you to embrace caring and nurturing clients to the Nth degree. By encouraging your team members to really engage and care for your clients, the long-term rewards will be immense and endless.
The positive side-effects that you'll be exposed to are as follows:
– Greater brand awareness.
– Stronger brand loyalty.
– Repeat business
– Massive WOM (Word of Mouth) Referrals
– Improved understanding of your client needs.
– Clients 4 Life!
Shiny Objects In The Distant Lands
Stop chasing every shiny object in distant lands, and concentrate on reconnecting with your clients like The Broadmoor does. There's a hundred thousands Red Roof Inns, Motel 6, and the Econo Lodge, but there's only one Broadmoor.
Stay thirsty my friend for more money making and business-building advice!
Bob