Turn out all thoughts of doubt and of trouble. Never tolerate them for a second. Bar the windows and doors of your mind against such thoughts – as you would bar your home against thieves who would steal your treasures.
What greater treasures can you have than faith and confidence in your own abilities to close more security sales in a down-market and the proper security marketing tools to take you there?
Face The Storm
Any security dealer or security sales rep can feel safe in a harbor (The waters of 2007), but real joy and victory comes to those who sense that they can captain the ship during a storm.
Here's a snippet of a great ad, that's in this month's Smokin' Security Newsletter. It's designed for pre-selling security and low voltage services…mail it out prior to conducting your security audit and watch the doubt and skepticism go away and a new level of trust, faith and confidence, in you and your services, develop in your prospect!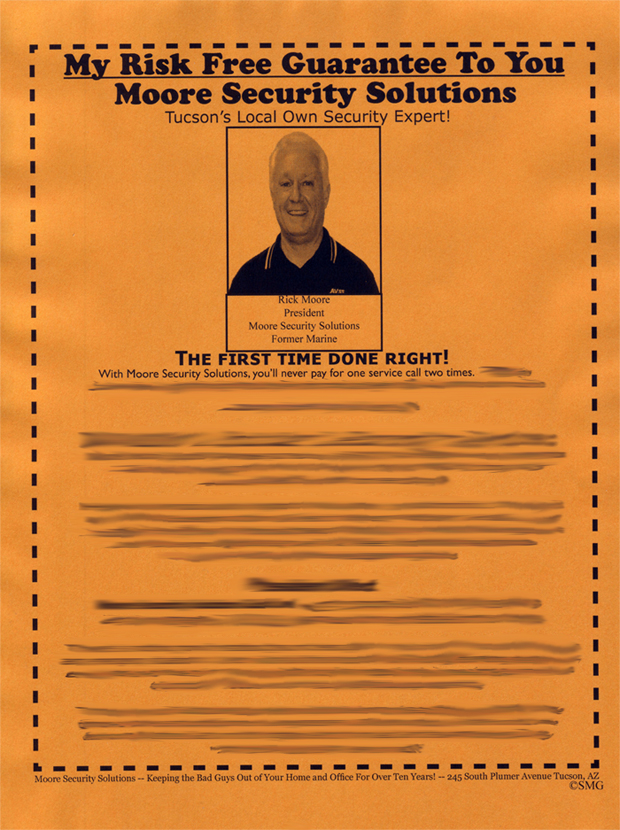 Do You Want to Develop a Continuous Stream of "HOT" Security Prospects…Dominate Your Local Security market…Attract "A-List" Clients that PAY, STAY and REFER…Stop Wasting Money on Marketing That Doesn't Work…Increase Profits and Your Personal Income….Then You NEED to Sign Up for My Smokin' Security Newsletter TM Today (now read in 8 countries world-wide!)
Get two free back issues, one current issue, four Audio Success CD's and 10 Bonuses worth over $2,500, when you become a member of my Smokin' Security Newsletter…all for the low, low introductory price of $5.95.
Security Maverick Coaching Club TM
Do You Want to Be Personally Mentored by Me, Bob Maunsell, The Security marketing Guru?  Are You Sick and Tired of Just Getting By Week-By-Week, Do You Want to Establish Your Security Business as The Premier Security Company in The Region?
Then Join My Exclusive, Personal, Marketing Coaching Program, for Security Dealers and Low Voltage Reps, and I will Personally Mentor You! I'll Lead You By The Hand and Guide You Step-By-Step To Creating The Most Profitable, Most Fun and Lowest Stress Years of Your Career.
So, If, and ONLY If, You're Serious About Multiplying Your Income, Gaining A Personal Life That YOU Control And Being Able To Spend More Time Then Ever With Your Family And Loved Ones Without Having To Worry About Managing Your Business, You're Invited To Apply For Membership In This Elite Group, my Security Maverick Coaching Club TM.  All Others Need NOT Apply.
Do you want to turn your service vehicles into a 24/7/365 selling machines?!  Then "say hello to my little friend," Vehicle Card PocketsTM from Security Marketing Guru (authorized retailer). Vehicle Card PocketsTM are exterior card holders, for your business cards, that mount to your vehicle.
Slap one of these bad boys on each vehicle, fill them with your business cards, and instantly turn your vans into 24/7/365 selling machines!  I have been using these on my work vehicles for almost a year now and still can't believe how many cards are taken and how many sales calls I get from them! It's like having a security sales rep permanently "gorilla-glued" to the side of your vans handing out business cards all over town!
So, if you want to dramatically elevate your game, I urge you to check out one of my three Premier Pocket Packages – Platinum, Gold and Bronze – and start using Vehicle Card Pockets TM today!
Alarm Dealers Program – The Ultimate Residential Security Sales Kit: How To Get New Homeowners To Line Up…And…Beg You To Take Their Money!
Who's looking for a way to market to new homeowners that's cheap, easy and effective, without needing any special marketing skills, lots of coin or know-how to employ?
Use my outrageously easy marketing system for New Homeowners (the new residents who are moving into your area by the hundreds each month) and double – even triple – your new installs overnight!
If you've been scrambling around your office looking for a way to increase your security installations, then you've just found it!
Here's why: For the first time ever, I'm revealing the secrets to how I get "new mover" security installations without breaking a sweat.  So, why should you follow my lead and go after new homeowners?  Well, these nomads are worth on average, $1400 per installation – plus years of RMR (re-occurring monthly revenue from monitored accounts).  And I only spend a few bucks to get them!
My complete New Homeowners Marketing System is guaranteed to bring you in a boat-load of security leads.  I created and implemented this system in my own security business (see, you get FREE R&D here because I've done all the testing and tweaking for you!) and, over the past 16 months, have increased my residential security installations by 92% using it!
My complete approach beats the pants off of every other approach currently out there!
This system is so unconventional that none of your competition is doing it and won't even see you coming until after the damage is done and you've reaped all the hay from the harvest!