Yippee Ki Yay, Its Friday!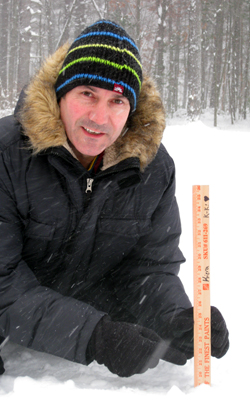 We just got done digging ourselves out of a mountain of snow…had a mean nor'easter blow through and dump 18-24" of heavy snow in Central Mass. After we got done digging ourselves out, I checked my mailbox and, inside, found the world's largest postcard for generating sales and leads. You got to see this one!
Having a small stable of postcards for generating sales and leads is the quickest and surest path to creating an E.S.P. style ( Easy – Successful – Profitable) security business with a cash-flow surge. Postcards are a dirt-cheap way for attracting and retaining clients and prospects.
The postcard I found inside my mailbox was so crazy-good and it will generate a blizzard of responses and sales, for sure! In fact, it's so dang good that I immediately whipped out my video camera, jumped into the nearest snow mound and started recording a video so I could show you it's virtues.
Here's some things you'll discover in this quick 4min 15 sec security marketing video:
Why you should use over-sized postcards.
Why you should have more then one offer on your postcards.
Discover the secret for sampling your products.
Why you should give away something high-quality to attract Clients for Life.
Attention Smokin' Security Newsletter Members!
Group Call In Day is: Thursday, January 27, 2011 at 7:00pm EST.
The topics of discussion are: How To Generate a Blizzard of Free SEO Traffic To Your Website. A client newsletter is the Holy Grail for attracting and retaining clients that Pay, Stay and Refer. So we'll discuss How to Implement the Winter Client Newsletter – Service That Soars(TM).
Now Go Smoke Your Competition! –  Bob Maunsell
Former Sgt U.S. Air Force
Have an E.S.P style day, Easy, Successful, Profitable.
**Hey, Do you want to post my articles up on your blog? Go right ahead! Just kindly cite your source and give a link back to my page.Thanks!**