Do you ever find yourself in a rut thinking that life is passing you by and you're never gonna get your fair share; you're losing out and your ship isn't coming into port in your natural lifetime? You ever get that feeling…now be honest with yourself. I've coached and consulted with hundreds of security peeps, and many feel this way.
I'm too old…dude, you're only 37 years old
I'm too old…bud, you're only 59 years old
I'll hear this all the time! You could be 32, 43, 53, 67 years old…
The King of Franchises
Do you know how young Ray Kroc was when he started McDonald's… Take a WAG (Wild-Ass Guess)? Well, Ray was 53 years young when he started the McDonald's franchise. One thing I bet you didn't know about good ol' Ray is that before he founded McD's, he was selling Prince Castle Multi-Mixers (milk shake machines), around the country, and his sales were free-falling because Hamilton Beach had a lower priced model out on the marketplace.
Ray had taking note of the McDonald brothers (this is what we would call PROFILING your best clients) who had purchased 8 of his multi-mixers, and went back to them and convinced them that he could sell mixers to every franchise available.
And how do I know this? Because I just interview Michael E. Gerber the world famous author of The E-Myth Revisited: Why Small Business Fail And What To Do About It. If you don't want to grow and systemize your business, them this month's Smokin' Security Newsletter™ Audio Success CD isn't for you. Michael's not the mamby-pamby type, he's very caustic. If you can't handle the heat get of the kitchen, and if you own a business and you're not optimizing your business to the best of your abilities, go find a sales reps job and sling door contacts for someone else. And, if you're a hungry sales rep and you feel as though your hands are tied workin' for the man, now's the best time to strike out on your own, and start building your security franchise.
Also Include in this months Smokin' Security Newsletter, you're gonna receive the following from Massachusetts.
Done 4 You Fall Quarterly Client Newsletter – Service That Soars™
The best newsletter on the planet for getting your clients and prospects to do the BIG 3: Pay, Stay, and Refer! Also included are multiple offer forms that you can use to soft-sell your clients on new products and services.
A Fantastical Way To Capture The Holy Trinity of Contact Information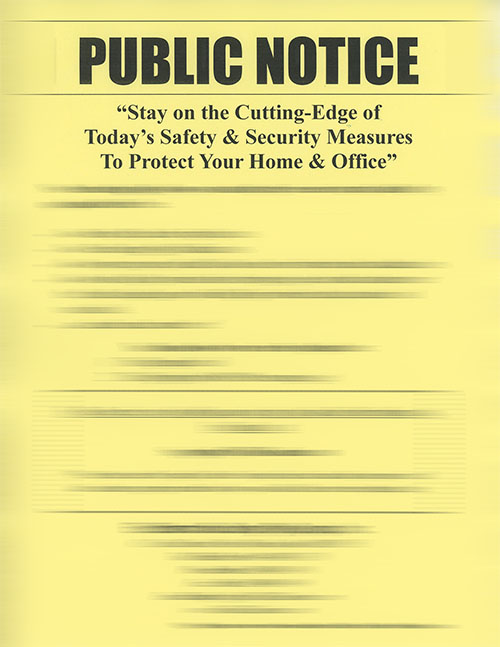 Having a steady flow of clients is easy if you have a database of quality contacts with which you regularly communicate. But are you capturing The holy trinity of contact Information?
The holy trinity of contact info is:
Now, most of you will already have the mailing address and a phone number – not necessarily a text-capable number – for your clients and prospects. Well, I've put together a fantastical way for you to gather the email and text number – both of which being the most coveted contact information you can gather today. Text messaging alone has a 92% opening rate!!
So, what I've done is created a new flier offering a "community update" service, informing subscribers about security & safety updates and new technology trends. It's a great way to build your database fields by offering a valuable service to your prospects and clients…valuable enough to make them WANT to give you their email and/or texting number.
This flier can be hand distributed, included with your quote packs, invoices and regular company mailings, and inserted in the Service That Soars™ newsletter. This is a versatile tool with some important details …
1. Attention Grabbing Headline: 'PUBLIC NOTICE.' This headline flies under a prospect's radar that filters out sales messages
2. Offering something of value to target audience (updated, insider information that security prospects and clients want)
3. Making it easy for people to respond (include both phone and email contact)
4. Letting a person choose how they want to receive updates (via email or SMS message)
I've been using this flier in my security company for the past six months and it's worked like gangbusters! We've been very successful in capturing email addresses and text messaging numbers – again, the most coveted information you can get from your prospects and clients!
But wait, I'm not even done with you yet…
Also Included In This Month's Issue of The Smokin' Security Newsletter Is:
– Discover the proper way to execute a follow up after a trade show – and it's not some lame, weak, powerless phone call. "Oh, um Hi. I met you at the tradeshow last week…" That's a powerless, drippy way to follow up.
– How To Use Testimonials To Sell At Incredibly Higher Margins Than Your Competition.
– Jedi Mind Tricks & Owning Your Clients Mental Real Estate
This is what we discussed on last month's audio success CD. It's what Steve Jones of "How To Brand Like A Rock Star" had to say about owning your clients mental real estate, and what I like to call top of the consciousness. If you want to own someone's mental real estate, you gotta show up and be omnipresent in your marketplace. Learn a multitude of ways for being here, there and everywhere in your marketplace.
Wait! Halloween is just around the corner and I'd like to give you a special treat! So I'm gonna vouch for you and throw in my private "Members Only" Webinar:
Website Ninja Sales Conversion Strategy Webinar
"How to subconsciously program your website visitor to give you their contact information and positioning yourself as the local authority before they even know what hit them!"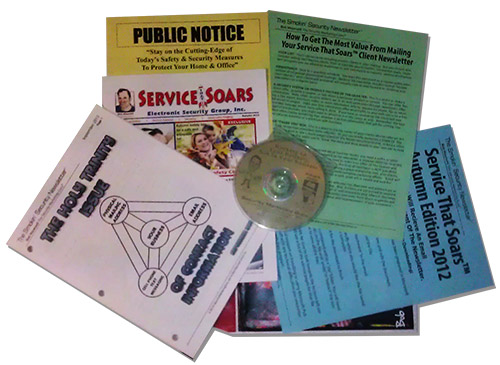 So, what are you waiting for? Sign up HERE!