Hey Everyone,
Just chilling out in the Hartsfield-Jackson Atlanta International Airport waiting for my 12:30 flight back to Boston. Great blog post for you guys today, check it out!
Multiple Fishing Poles In The Water…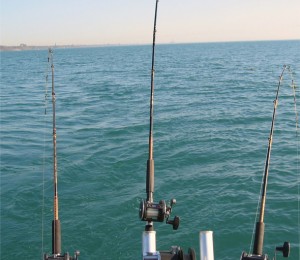 This past weekend for the first time in about five weeks it actually felt like summertime. I took my little girls down to the reservoir to do a little fishing with me, so we kicked back for a few hours and I had some Q.T. with my girls.
Now is as good a time as ever to talk about catching more fish (security prospects) so let's get going
Before I let anyone in to my security mavericks coaching program that must complete an in-depth questionnaire that asks for specific statistics, I personally review each and every one of them.
Here is what I've uncovered:
•    73% – This is the percentage that admits to doing only ONE marketing activity per month.
•    84% is the percentage of security dealers with NO structured referral system in place.
•    98% – is the percentage of security dealers who are just winging it with no formalized marketing plan.
Sadly Only One Fishing Pole…
I once consulted with a security dealer who had been in business for about 15 years who was very lucky: he started his business in a small town with a huge manufacturing plant he was busy doing security installs at the plant and he would also grab quite a bit of business from the workers in the plant installing residential alarm systems.
He was able to do this with out doing any alarm promotions or any marketing for his security company. He was fat and happy until the day the plant closed down and shipped over to South East Asia.
That's when he called my office in a complete state of terror, and said Bob I just lost 85% of my revenue base, not only with the plant closing and losing the commercial security side of the business did he take a direct hit, but his residential security business took another direct hit when his clients were no longer able to pay the monthly monitoring because they just lost their jobs! (btw his residential monitoring was only $15 per month, pretty cheap).
Bob, what are my options… My oldest daughter is going to college in two years, and my whole world was just flipped upside down?
Up to this point this dealer wasn't doing a stitch of security marketing to promote his business, and I mean nothing, nada, zilch to acquire more clients or to expand his reach.
Here is what I instructed him to do, and he was able to turn his security business around within 12 months.
Massive Action – Adding More Fishing Poles…
Phase # 1 for this dealer was to understand that you need multiple baited fishing poles in the water to attract and reel in enough "fish" into your business. With a dozen, two dozen poles in the water you will create a hornet's nest of lures and hooks to attract and catch enough "fish" into your business. With a dozen, two dozen poles you will generate a huge buzz of activity, what I find is that success and energy feed off  themselves, and the new prospect flow picks up just because you have so much going on!
The feeding frenzy effect is the same in security marketing as it is in fishing. So the # 1 job for this dealer was to add more fishing poles, as fast as humanly possible (website, monthly client newsletter, Free Recorded messages, postcard system, referral generator, etc) .
He wanted me to give him a "magic pill" (that one ad that would make it all come back) that would solve all his problems, I told him to keep dreaming and to stop thinking about being a one-hit wonder, to tell you the truth there is no such thing as a "magic pill" to instantly increase your revenues or sales by 50% or 100%. It takes a willingness to implement new strategies and build a killer security marketing system that will turn you into a ROCKSTAR and not a one hit wonder.
I said if there was such a thing as a "magic pill" ad or marketing piece, everyone would be using it, and pretty much render it useless anyway. The "magic pill" approach is just a immature view of the reality of effectively marketing your security business.
Babe Ruth…
Chasing marketing home runs is like gambling at the roulette wheel "hoping and a praying" for that big score. It (almost) never happens my friend. Baseball games are won by consistent base hits, smart base running, and quality pitching, not homers. I educated this security dealer that rather chasing the pipe dream, instead construct and organize a formal security marketing plan. No single pole will replace the 20 he is missing, however I promised him that the dozen or so poles we could implement right away would average him about 24 new pre-qualified prospects per month.
His Results:
I'll give this dealer credit. Within 120 days he went from zero marketing poles to adding the 12 marketing poles (i.e. security marketing systems) to his business I had recommended. In six months he was averaging almost 22 new installs (almost back to pre-plant closing levels)! In 12 months he was able to double the number of new installs to 40 a month.  He said that having a formalized marketing plan actually took less time and was less stressful then relying on that one large plant to feed his business.
Happily Ever After…
Thanks to the vital concept of marketing poles, he saved his security business in the short term, and doubled his income in the long term. The lesson is very clear, "diversity equals stability", don't rely on home runs *cough* NY Yankees *cough* or just one fishing pole to have a successful security business!