Yippee Ki-Yay! It's Friday
I posted this over 2 years ago (!) but a few readers asked for an encore.  So here it is!
"Top of the Mountain"
I have had this list of 10 commandments, if you will, thumb-tacked to my office wall since October 27, 1996. That's almost 14 years ago!  I don't remember where, when or how I came up with these 10 commandments (must be old age setting in!) that teach you how to climb to the "Top of the Mountain."   If I were writing this piece today, I would titled it "How to Become a World Famous Security Guru." I have followed these 10 steps to the tee since I committed the words to paper. So here you go guys & gals:
Show up.
Show up on time.
Show up ready to perform.
Study and learn something new about the electronic security everyday.
Study and work to become an expert, a specialist.
Invest some time everyday in self-improvement.
Know that by doing these things you are more knowledgeable and expert than most, so look, talk, and act like a leading authority in your field.
Not only work on your mind, but your body as well.  Make it a point to stay fit and look neat and clean at all times…remember, first impressions are everlasting!
Be a marketer first and foremost. Be a marketer of what you do, more than a doer of what you do.
Manage and invest your time well.
What I wrote almost 14 years ago is still very useful advice today…it's timeless guidance that, if followed, will take you to the summit in the security industry.  The only difference is that, today, I know WAY more cutting–edge,  mountain-climbing techniques to get to the apex of the mountain, and how to use these techniques to rapidly ascend to the top.  By utilizing all the latest & greatest mountain climbing gadgets,  it's a heck of a lot quicker to get to the pinnacle cuz I ain't using dated climbing gear and techniques from 1996!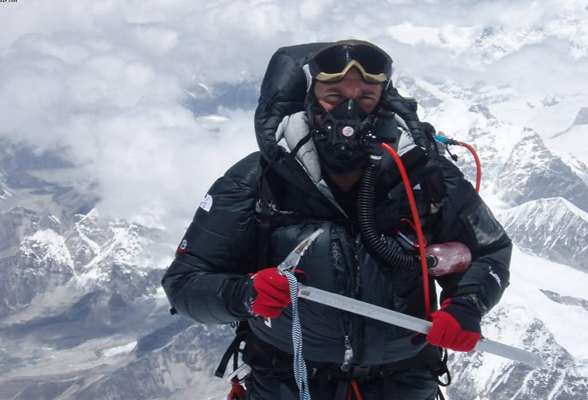 Always Be Learning
One thing I want you to know is that your competition, for the most part, will not explore or do any of the required training to climb to the "Top of the Mountain."  Why?  Because people are lazy & cheap in there acquisition of new knowledge & marketing ideas and they don't want to work any harder then they have to. If you follow these 10 commandments for climbing to the "Top of the Mountain" what you will notice is that it's harder climbing at the base of the mountain (all the rookies & green horns are in your way there.)  But, as you start climbing higher, it will become easier…less people will be in your way because they're still struggling at the base (they didn't take the time to study and learn new climbing techniques, therefore, they haven't learned how to climb expertly.)
The big difference will be when you get to the "Top."  The people there are far and few between, but they are the successful folks, the ones you'd want to hang out with and learn from.  You never want to take advice or model yourself from someone who is a "green horn" at the base of the mountain, who are disguising themselves as a climbing expert, but have never been to the "Top."  You know these folks…the ones who have all the answers, but no-real world experience.
The big difference at the "Top" is that, firstly, the view is breath-taking and you can see 360 degrees in all directions, which allows you to see most opportunities.  Secondly, "The Who" song, "I can see for miles, and miles and miles, and miles, oh yeah!!"" should be playing in the back of your brain over and over again.
P.S. I hope that most of you are wise enough to thumb-tack these 10-commandments on your office wall and abide by them.  Like Jim Rohn said about success, "It's easy to do and easy not to do."  Knowing and doing are two different actions…so the choice is yours.  I only hope, someday, to get a nice, little testimonial from one of you who implemented the the commandments I just laid out. I'm sure, whoever you are, you'll be at the TOP of your game!