Let's Face It. Times Are Tough Out There Right Now And You Need Everything In Your Power To Attract More Security Clients To Your Business.
Introducing Vehicle Card Pockets TM from Security Marketing Guru, authorized retailer. Vehicle Card Pockets are exterior card holders, for your business cards, that mount to your vehicle.  Slap one of these bad boys on each vehicle, fill them with your business cards, and instantly turn your vans into 24/7/365 selling machines!  I have been using these on my work vehicles for almost a year now and still can't believe how many cards are taken and how many sales calls I get from them!
"Why ain't they calling?"
Getting noticed but not getting the call is a reality for many security and low voltage integration businesses.
Truth is, your name and contact information are forgotten within 15 minutes of viewing, even if the interested party has made an attempt to commit your details to memory.
With Vehicle Card Pockets, you won't have to worry about prospects committing your contact info to memory or relying on them to have a pen and paper handy to jot down your info or cell phone to snap a picture of it (nobody would think of that, anyway!)  You'll turn your business cards, an under-used but highly effective marketing tool, into the money-making machines that they should be.  It's like having a security sales representative permanently gorilla-glued to the side of your van handing out business cards all over town!
If you want to dramatically elevate your game,I urge you start using Vehicle Card Pockets today!
If you want to dramatically elevate your game, than get a look-see of the three different Vehicle Card Pocket packages that I offer…check them out at the #1 Security Marketing website in the world!  No other site will teach you how to get security clients that PAY, STAY and REFER!
Visit the Vehicle Card Pocket page!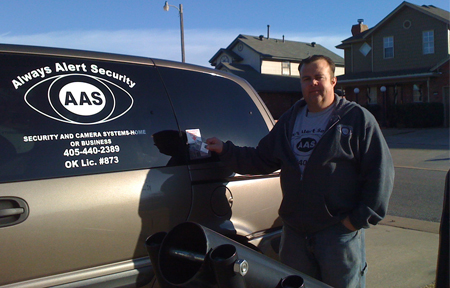 Inside the March Issue, also known as The Spank Issue, you'll…
Find out the how to wipe out price-resistance, once and for all.
Learn how to create future "Pay Days" in your business for the rest of your life – that has nothing to do with RMR.
Find out what ISFL it's quite lucrative!
Get a form, that if used, I guarantee will make you at least $50,000 in sales in the first year of use!
Learn my 79-word retort to counter anyone looking for a "cheapo security system."
How to use the my Stalemate philosophy to win over prospects
Learn the importance of SPANK and having lots of ammo when you meet your prospects.
When to use the "stick strategy" on new clients.
Discover how to create a wall of fame inside your office.
Have you ever seen a $120,000 testimonial from a very, very, satisfied client?  Well, I'll show you one!
Get a really cool way to find out the three biggest concerns prospects have before they hired you and how to use that info in your marketing messages.
P.S. Check out this interesting blog post I uploaded last Friday…