I was kicking back in my office and skimming through the latest issue of SSI (Security Sales & Integration). While pursuing through the winners of the Sammy Awards, there was one winner that really caught my attention because of the marketing channel that was used.
The Best Company Newsletter (print or electronic) Atronics Alarms
Please go ahead and read the article because there is a GR8 lesson to be *learned* and I'll catch up with you on the other side…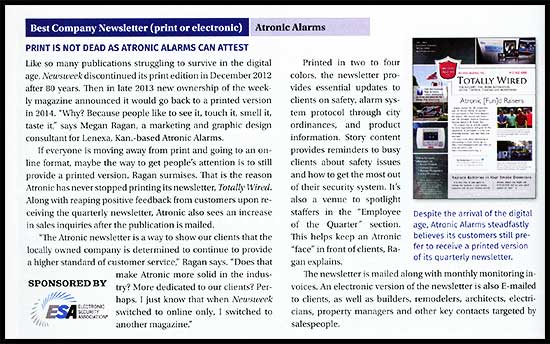 Client Newsletter Example – Security Sales & Integration
Read the article below
Like so many publications struggling to survive in the digital age, Newsweek discontinued its print edition in December 2012 after 80 years. Then in late 2013 new ownership of the weekly magazine announced it would go back to a printed version in 2014. "Why? Because people like to see it, touch it, smell it, taste it," says Megan Ragan, a marketing and graphic design consultant for Lenexa, Kan.-based Atronic Alarms.
If everyone is moving away from print and going to an online format, maybe the way to get people's attention is to still provide a printed version, Ragan surmises. That is the reason Atronic has never stopped printing its newsletter, Totally Wired. Along with reaping positive feedback from customers upon receiving the quarterly newsletter, Atronic also sees an increase in sales inquiries after the publication is mailed.
"The Atronic newsletter is a way to show our clients that the locally owned company is determined to continue to provide a higher standard of customer service," Ragan says. "Does that make Atronic more solid in the industry? More dedicated to our clients? Perhaps. I just know that when Newsweek switched to online only, I switched to another magazine."
Printed in two to four colors, the news-letter provides essential updates to clients on safety, alarm system protocol through city ordinances, and product information. Story content provides reminders to busy clients about safety issues and how to get the most out of their security system. It's also a venue to spotlight staffers in the "Employee of the Quarter" section. This helps keep an Atronic "face" in front of clients, Ragan explains.
The newsletter is mailed along with monthly monitoring invoices. An electronic version of the newsletter is also E-mailed to clients, as well as builders, remodelers, architects, electricians, property managers and other key contacts targeted by salespeople.
Pretty powerful article about the benefits of having a client newsletter in your marketing ammo dump. I'm going to expand on it a bit further…
13 Reason Why A Client Newsletter Is The Absolute Work Horse For Attracting & Retaining New Clients, And For Educating Prospects Who Are Sitting On The Fence Thinking About Using Your Security Business!
1- If your competitors are moving all their resources online with digital marketing, then the "slight of hand" would be go offline with some of your marketing efforts.
2- Folks can touch, sniff, taste & dog ear a printed newsletter, plus it has the hang around on the kitchen table or office desk factor, which can't be replicated with an email.
3-Your client will love an old-school printed newsletter; out all of your marketing efforts a client newsletter has a 400% chance of getting read than anything else you send your clients.
4- A client newsletter is the best way to "soften the beachhead" for more sales and inquiries into your security business.
5- A client newsletter uses "The Jedi Mind Trick" principle of educating and soft-selling your company's products and services at the same time.
6- A client newsletter is an awesome tool to farm for new technicians (trainees) for your business; if your clients think that you have a cool progressive business, they'd be apt to recommend quality peeps to your business.
9- The "Trojan Horse of Marketing" if you know who your clients' competitors are, put them on your newsletter mailing list and start educating them about how awesome your security business is.
10- A client newsletter is a killer way to turn your employees into "Rock Stars," and showcase them to your clients and prospects. If you feature your techs, reps, and office staff in your newsletter they'll feel part of the company family…and I guarantee you they'll stick around for a long time.
11- A client newsletter will put an invisible firewall around your clients and will make it impervious to getting your accounts hijacked out from underneath you from a low-ball, scrounge competitor.
12- People have it in their DNA to go to the mailbox each and everyday to get their mail…They're conditioned to do it. Don'tcha think its 'bout time you show up in your clients and prospects mailboxes?
13- Sales reps will come and go, but your Client Newsletter will never leave you!
14- If you don't have a sales-rep for your security business, then put the postman to work for you delivering your client newsletter to folks who KLT (Know, Like, and Trust) You!
The Fiercest Marketing Tool Known To Man
I can't honestly think of another superior marketing tool for a local or national security firm that can do all this for you, and more. If you're serious about protecting your A$$ET (security business) then you better be serious about having the fiercest marketing tool known to man – a quarterly client newsletter.
Your Quarterly Client Summer Newsletter Is Ready For You Right Now!
There are two ways of getting your greedy paws on my Service That Soars™ client newsletter. First if you join my Smokin' Security Newsletter Coaching Club™ you get it with your membership. Or, if you just want to buy it straight out, then CLICK HERE.