Yippee Kay Yay… It's Friday!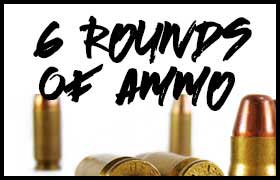 Welcome to 6 Rounds Of Ammo – Vol 3 and, like I said in Vol 1, I'm gonna assemble six quick rounds of info for you. I'll be aggregating articles and things that I read and listen to, plus I'll give you some tidbits on business-building strategies I implement in my own security business, and security marketing strategies gleaned from some of my coaching club members from around the globe.
Best Security Company Viral Marketing Video
This Home Security Company Turned Phone Tree Hell Into a Cool Viral Marketing Video – The home security company has staked its reputation on customer service—specifically, the promise that customers will get a live representative within two rings. So a small video team took to the streets with a cellphone and a simple exercise for passersby: Call our competition, and try to get a live rep. Then call us.
This Weekends Thinking Point –
Don't forget to be grateful for all you've been given!
Weekend Perspective –
All the wonders you "seek" are within you!
What I'm Reading –
This book is a classic and I've had it for years, I pick it up every now and then to flick through it. The book is called a The Millionaire Next Door and boy it's an oldie but goodie. Here's a couple of takeaways from the book.
You have to seriously question the wisdom of being in any business without renewable income.

Dealing with fear in a positive manner is a foundation stone of becoming wealthy in America.

Before you can become a millionaire, you must learn to think like one. You must learn how to motivate yourself constantly to counter fear with courage.
5 Tips For Turning Your Techs Into Brand Ambassadors
Starting with the basics, create a team that is not only aware of your company's brand, but can fully advocate for it. This blog from LinkedIn gives some fantastic examples of how companies have made their employees comfortable with their roles as brand ambassadors. Here's how you can do it, too.
My Playlist Right Now – Jimmy Cliff – The Harder They Come
Have a great Weekend!
Bob