Why You MUST Have a MOBILE Website NOW
For Your Security Business To Stay Alive!!!
Also, Request A Free Mobile Strategy Powwow from Mobile Technology Expert, Rick Miller, and Learn What You Need For A Seductive Selling Mobile Website
As everyone knows, nowadays Mobile Phone Usage is OFF THE HOOK!
And, it's estimated to double, triple, quadrupled over the next several years.
Here are some pretty sick stats that will open your eyes as to why you need a Mobile Website for your security business:
-89% INCREASE in mobile data usage.
-77% of mobile searches occur at home or at work.
-On average, EACH mobile search triggers nearly TWO FOLLOW-UP ACTIONS.
-55% of CONVERSIONS (store visit, PHONE CALL or purchase) happen within ONE HOUR.
-81% of mobile searches are driven by SPEED and Convenience.
-45% of ALL mobile searches are GOAL ORIENTED and conducted to help MAKE A DECISION.
-81% of CONVERSIONS (store visit, PHONE CALL or purchase) triggered by mobile search occur within 5 HOURS.
-MOBILE COUPONS receive 10 TIMES HIGHER redemption rates than print coupons.
(Source: The Nielsen Company, 2013)
In this day and age, the FASTER and EASIER someone can access your website, the better off your bottom line will be.
More importantly, how your website LOOKS, FEELS & FUNCTIONS in this arena is the numero uno factor of whether or not you'll gain or lose a sale.
This is why many companies now have Mobile Websites. Sadly this isn't the case when it comes to many of the folks in the security and low-voltage industry. These are companies running, selling and installing futuristic security systems, all the while they have a 2007 website platform. That doesn't speak well to a prospect looking for high-tech security while they're visiting your antiquated site that should be featured in the Smithsonian.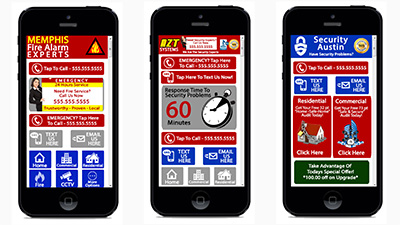 The super sexy, eye-catching displays of mobile websites, plus the ease of use when it comes to navigation and quick click actions, are just a few of the key benefits to having one.
Here's an example of why it's so important to go mobile:
John Smith has just come home from vacation to find out his abode was burglarized and ransacked. He needs someone to come do a residential security install, lickety-split! What he wants is a quick, no nonsense way to find a "Local, Reliable, Honest, Professional & Trusted Security Company." With his smartphone in hand, he begins his search. He goes to a local security business's site and cannot find a quick emergency tap-to-call button within SECONDS, so he immediately hits the back button and chooses another local security business from the search result list.
Another example – Darren Doolittle, a regional property manager for a national real estate company. Darren has an immediate need for a security integration firm. He has a HUD inspection coming up so his fire alarm, access control, and video surveillance systems need to be up to snuff. Darren gets on his Smartphone and searches for a local security company. He finds one, but it's website is not mobile enabled; he has to pinch in and out to read the website. A real pain in the a**. Darren quickly backs out and finds another local security company, from the search list, that has a friendly, easy-to-navigate mobile site.
As always the sharpest marketeer reaps the benefits of more growth, profits and enhanced RMR. Online technology is changing rapidly and mobile websites are taking over. Your website has to look, feel, read, navigate and function a certain way to attract security sales from your online visitors. Today's consumers prefer to shop and get information by using their Smartphones. If you don't embrace mobile technology, you WILL lose business bigtime.
Mobile Strategy Powwow
If you would like to learn more about how to design a seductive selling mobile website, then request a free Mobile Strategy Powwow with our Mobile Technology Expert, Rick Miller, by simply writing an email to Support@SecurityMarketingGuru.com today.
Dedicated to increasing your Security Sales!
Bob