First off, Happy Valentines Day To You! I have a V-Day Gift For You At The End of This Email!
Next thing on my agenda is a pertinent question: Are you sending your clients love letters?
If you're not, you REALLY should be cuz it lets them know how much you truly care and the extra attention you are bestowing, makes them stick to you like glue!
You always gotta be in touch and keep following up with your clients and potential prospects if you want to build awareness, credibility, loyalty,trust and client referrals. Are you doing this regularly?
This is surest path to increasing your sales.
I send love letters to my clients and prospects all the time. What's even cooler and 10,000 times more powerful and persuasive is when your clients send out unsolicited love letters to potential clients and prospects for you.
I have a couple of them to share with you right now.
You ready? Ok, Let's go then…
Here's the text from an email that came into my inbox. It is from a client of mine, named Wayne Shearer, that was asked by a competitor (not local), named Henry about how is he kickin' ass in this economy. To keep their emails and full names confidential, I redacted some of the text and inserted underlines.
Email To My Client, Wayne Shearer:
SUBJECT LINE: Hi Wayne hoping you can help me out
Hi Wayne:
Chris ________ over at ______ Electronics sent me a link to your site and thought you might be able to help me out. I live in _____ Virginia so I am not a competitor of yours in anyway, so he thought you might be willing to help me.
I have had a company for the past 10 years called _______ and I've been doing alert buttons for the elderly during that time. I have also been a public school music teaching for the past 30 years as well and just recently retired from that. With the paycheck of a retired teacher coming my way very soon, I have had to think about how I could expand in a way that will off set my families income loss.
I have decided to move into the home security systems and I am going to get my equipment from Chris. I was explaining to him that I am having a really hard time with the marketing thing and how to really get the word out with my alert button service. I am basically a one man band with this thing because I don't have any help with it. I do all the installs etc.
Chris suggested you because you have done very successfully what I'm trying to accomplish and he also said you were really good at the marketing end of things and that you had some good ideas.
I do have a website _______ but I have never really gotten any business from it. I have tried news paper, radio and in my small town I do have a 4X8 sign up on the main road.
Currently, I have roughly 180 clients but they come and go because of death or rest homes. This was one reason that I wanted to expand into the Security end of things.
If you would be willing to share with me your thoughts, I would greatly appreciate it and if there is ever anything I can do for you I would be more than happy to do so.
I am good with music and the production of it. I have a recording studio in the basement of our home and I have done a lot of commercial jingles over the past 30 years and I would be willing to help you out in that way if you do TV or radio at all. On my web site there is a little video clip that you can watch that I did the music for.
Any help would be great! I am just at a loss on how to get the word out as cheaply as possible and acquire more clients in order to build my business to the point that my family won't have to worry as much about where the next dime is coming from.
Thank you so much for taking the time to read my email and I have heard some really great things about you from Chris over at Cumberland Electronics so I thought I would ask.
Thanks again
Henry
Response Email From My Client, Wayne To Henry
Henry,
My business has really expanded not from ads in yellow pages or newspapers, but by following a security marketing program from a guy from New England. That program is mostly mailing letters to prospective customers and mailing a quarterly newsletter that he has developed the cover and I develop insert pages into the center directed toward whatever I am "pushing" at the time. I've attached a sample of a letter I mail out and I'll mail you a newsletter. I'm also going to pass your information to my marketing guy so he can present what he has to offer. I have purchase from him just about all his packages. But you could start off slow and build up to other packages. He markets himself as the Security Marketing Guru. I would highly recommend using his services.


Wayne Shearer 
Owner 
Shearer Security Devices 
Harrisburg, PA. 

Here's another love letter from another super-successful client of mine, Brent Mele.
Subject Line: Your Website Voo-doo Magic Is Making My Phone Ring!
Hey Bob & Rick,
I just want to tell you that you guys are awesome! I have been a Smokin' Security Newsletter member for a couple of years now and your stuff ROCKS!
After taking your coaching advice and participating in the group coaching calls, you have helped me develope a unique follow–up system for dripping on my clients and prospects, so when they are ready to buy, they come back to me instead of the security company down the street.
Most recently, you have helped me re-engineer my website and my mobile marketing strategies, and whatever Voo-Doo Magic you have done, our phones are ringing off the hook with quality prospects, instead of the price-shoppers and coupon-clippers that we used to get.
I can honestly say that no one offers the level of integrated marketing service that SMG offers, from the mindset training, to the tons of awesome ideas I get every month in the newsletter, and then couple that with your SEO and Mobile marketing strategies that you have done for me, we are in superior fitting shape.
Thanks for everything!


Brent Mele 
V.P. of Corporate Development 
All Action Alarm 
Huntington Station, NY.

I Want To Give You Some Personal Love This Valentine's Day
Since it's Valentines Day, I want to spread the love with a gift that will help you on your way to success!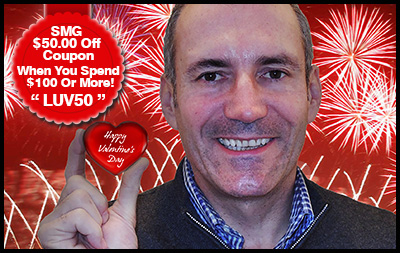 So, here's a sweet, little gift – an SMG $50.00 Coupon, good toward any one of my sales & marketing products or service that's at least $100 or more. Be sure to take me up on the offer because it will expire on 2/28/14. That give you two weeks!
When ordering, use code: LUV50