I'm always looking for something to say to prospects and clients that is rather original,persuasive, top-shelf. Instead of saying yup we can install that thingamajig for you, you always want to address your prospects' and clients' needs and concerns in your marketing prose.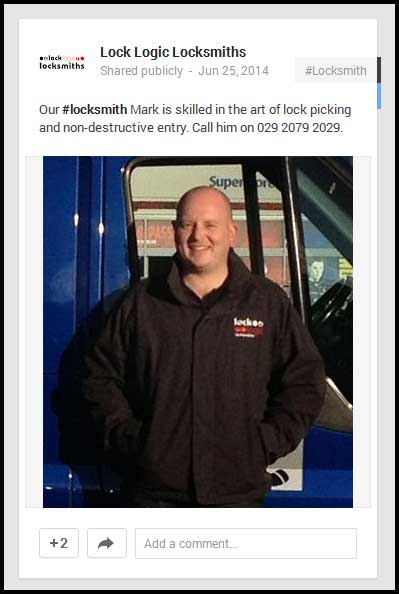 Lock Logic Locksmith
Check out Lock Logic Locksmith's picture above. The phrase "Non-Destructive Entry" that Lock Logic used is a brilliant, elegant way for a locksmith to word picking a lock. It sounds like a skilled neurosurgeon will be working on your lock. Plus, it quells any concerns/fears a prospect may have of damage to the door/lock from picking.
The reason I'm writing about Lock Logic Locksmith's picture (who are located just over the pond in the UK) is that I have quite a few very successful locksmiths that are SSN members, but this example can be utilized by all. I've read thousands of postcards, direct mail pieces, brochures, YP ads, websites, social media posts and I've NEVER seen this type of verbiage used for locksmiths. It stopped me dead in my tracks… so what do you think it will do to your prospects? A locksmith can build an entire marketing campaign around the USP: Non-Destructive Entry.
Question For You
How can you reinvent,repackage, rename,rebrand your security business processes to be proprietary installations, so that you don't get commoditized and pigeoned hole by all your other competitors?
Your proprietary installs(e.g. Non-Destructive Entry)can be a HUGE market differentiator when it comes to outselling your competition.
Suicidal Behavior
Suicidal behavior is using the same language and lingo that everyone else uses in your industry and niche markets. When everyone uses the same terms and terminology, it creates commoditization… When you become a commodity you don't have squat for MARGIN!
Your mission, if you choose to accept it, is to out-think, out-work,out-strategies, out-perform, out-earn, out-market your competition.
Now, Let's Go Smoke Your Competition!
Stay Awesome!