I don't know about you, but don't you think it's slightly painful to have to "convince" a prospect to go with your company over the competition? So what I did was created a brilliant service matrix sheet. I developed this gem about 6-7 years ago. What the matrix does is it breaks down everything you do and the competition doesn't. It shows the HUGE benefits the consumer gains by choosing your company for their security needs. One of my favorite quotes is:
"Stop focusing on BEATING the competition & instead
focus on making the competition IRRELEVANT!"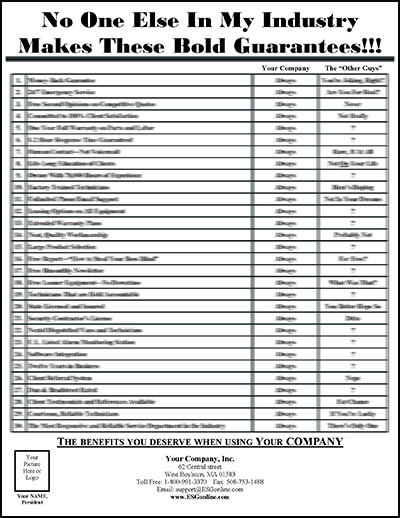 This is a great service matrix to use because you don't have to go bad-mouthing your competition, but, instead, let the matrix sheet be your own little Johnny Cochran and defend you against your competitors. If you have a team of sales reps, you gotta make sure you give the matrix to each and every sales rep you got! This security marketing pieces will be priceless to your security firm.
Other security professionals that can use this service matrix in the residential, commercial markets to an unfair advantage include:
– CCTV Installers
– Locksmiths
– Home Automation & Sound Gods
– Private Guard Service Honchos
– Security Integrators
– Low-Voltage Installers
– Electrical Contractors
– Private Detectives
All you gotta do is become a Smokin' Security Newsletter Member, to get your little paws on this awesome piece!
But wait there's more……
– The best definition on "Branding Your Security Company."
– The one and only thing you should be doing with your security business in 2013, can you guess what that is?
– A live exhibit of the best QR Code holiday card I've seen to date.
– A real live exhibit of the most endearing, and classiest customer email I received…and the one you should swipe and deploy for your business!
– Discover the # 1 Asset in your business and it's not what you think it is!
– If you want to be perceived as the "Mercedes-Benz" security dealer in your area, you must do this right NOW!
– Why you should model Mercedes-Benz for service contracts.
– Okay you can call your guys "techs & sales reps," but maybe you should be using this NEW term straight out of England to make you sound more like a CIA paramilitary strike team did the installation then just another average security company.
Burglar Break-In Codes Sales Handout # 2
Use this killer handout in your residential sale presentation, if you want to perceived as a legit security expert. It will set you apart from the other "ham and eggers" who are out there selling security systems out of the back of their beat up Chevy Impalas.
Hurry up and get January's issue of the Smokin Security Newsletter, while supplies last!
Stay Frosty!

Bob