How's it going? Just checking in to see if you're planning on coming out to ISC West.
I hope you had a great Easter weekend! I just wanted to get a quick message out to you.
I'm headed to ISC West, in fabulous Las Vegas, Tuesday – Friday (4/10/13-4/12/13), where I'll be hosting a private training session, on some crazy internet marketing strategies and some killer direct response techniques for my Security Marketing Guru Coaching Club members.
I'd Love To See Yah!
I'd love to meet up with you if you are attending ISC West. I'll be hanging out Wednesday (4/10/13) 3PM – 5PM at the VideoIQ booth (6095), and Thursday (4/11/13) 11AM – 1PM at the DoorKing booth (23055). Stop by if you're in the area. Personal connections are mega important to me and there is nothing better than a good ol' handshake and/or man hug and conversation.
Three Reasons Why You Should Stop By To See Me:
1) You can ask me how to solve your most vexing security marketing issues.
2) I'll give you a FREE quick critique on any single marketing piece that you bring with you.
3) You can talk to me about any of my security marketing products and services.
If are you going out to ISC WEST? I've got some real sweet gifts for you if you're a new member of my world-famous Smokin Security Newsletter Coaching Club, I'll give you a silver envelope that's stuffed to the gills with money-making security marketing material.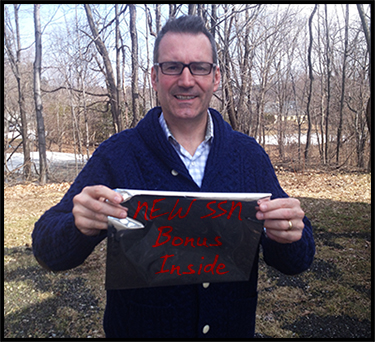 ISC WEST GIFTS
For New Smokin' Security Newsletter Members
>>>Bonus # 1 – Ethical Security Dealer Pledge – Do you have a team pledge sheet that you can hand out to inform your prospects that you're an A -1 security company and that every employee is on-board to deliver a "world-class" experience for your clients?
>>>Bonus # 2 – You vs. The Other Guys
This is a great service matrix sheet handout to use because you don't have to go bad-mouthing your competition. Instead, let the matrix sheet be your own little Johnny Cochran and defend you against your competitors. If you have a team of sales reps, you gotta make sure you give this matrix to each and every sales rep you got! This security marketing piece will be priceless to your security firm. It's an absolute friggin' brilliant security marketing piece, if I don't say so myself.
>>>Bonus # 9 – My Secret 11 Word Email That Brings In Sales
This secret little email has brought in hundreds of thousands of dollars for my members. Its raked in millions dollars collectively as a group. Would you like to have something like this in your toolkit so you can follow up with folks on dead quotes to reactivate them?
If you want to meet up, send me a private message through LinkedIn,Twitter, Facebook or Google +
If you're not coming to ISC West we'll just have to catch up at a different event… ;)
Hope to see you all out in the desert!
Peace.
Bob