I came across a post on Facebook that a good buddy posted the other day. I was blown away with the post. It was picture of a great, thought-provoking quote. I've never heard the quote before or the author Jay Danzie, but Jay hit it out of the park on this one. For us security guys and gals, his quote is about being completely genuine, authentic, real, selfless, caring and passionate with our prospects and clients, plus highly knowledgeable about security products and dedicated to implementing and installing these products to properly safeguard and protect our clients.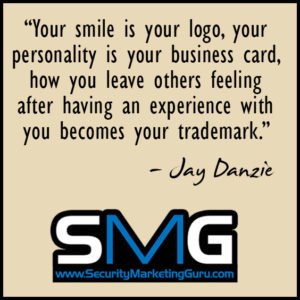 What I would do if was in command of your sales team/force is download the attached image and send or hand it to your team (office staff, techs, sales reps and the top company dogs), then have a quick 10 minute fire-side chat with all of them about what this quote means and how to implement its philosophy from top to bottom within your company.
The worst thing in sales is to be a stiff robot that's coming off with a canned, regulated script… always remember that folks will give lots of Dinero $$$$ to security companies and sales reps that they KLT (Know, Like, & Trust.) Plus these same folks are the ones that refer other clients to your company.
Have a GR8 week!
Bob