Compelling Copywriting Templates For Security ProfessionalsWho Want An Unfair Advantage Over The Competition!A Collection of Proven Formats, Headlines, Sub-Heads, Bullets & More –To Help You Write Powerful Copy Faster!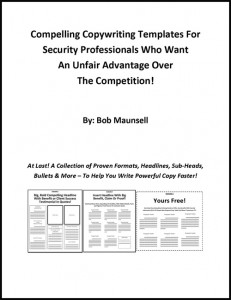 If you find yourself sitting at your desk, staring at a blank piece of paper or computer screen, struggling to begin writing a new security ad, direct marketing piece or email, then you've come to the right place. The eBook Compelling Copywriting Templates For Security Professionals Who Want An Unfair Advantage Over The Competition was created just for you!
Whether you're writing online or offline sales copy, it's so important to create a powerful headline that attracts your reader's attention, compose a compelling message to hold your reader's interest, and craft a stimulating offer to motivate the reader to respond...that's how great marketing messages are concocted!
To help you get started down the right road, all you need to do is turn to the section in this eBook titled How To Get Started Writing Great Security Copy and you will be guided through a simple 8 step process to get you going.
In this eBook you'll learn how to...
If you aren't sure what format or layout to use for your new marketing piece, then simply peruse the section titled Format Templates for a variety of ways to begin structuring your new piece. If you need Security Headline Template ideas, read through the ones provided in that section to get your "swipe" going!
This booklet contains a multitude of templates for your immediate use, instantly accessible at your fingertips. So, review, contemplate, model, revise, expand upon and include them in your marketing material.
To order your copy of Compelling Copywriting Templates For Security Professionals Who Want An Unfair Advantage Over The Competition, for just $9.97
**If we cannot verify your company information and security business ownership, we will not ship your order and we will refund your purchase.**
*Secure Online Checkout*
To order your copy of Compelling Copywriting Templates For Security Professionals Who Want An Unfair Advantage Over The Competition, for just $9.97