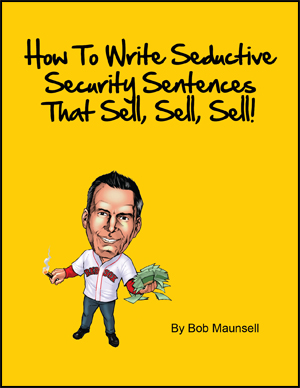 Five seconds...that's about all the time you've got to grab your prospect's attention and make a sale. Use the right sentence or slogan and you've done it! Use the wrong one, and you've lost your opportunity.
In this eBook you'll learn how to...
Choosing the right words and sentences to craft your marketing messages is vital to your success. And so is this eBook: How To Write Seductive Security Sentences That Sell, Sell, Sell! It's the ultimate resource for security entrepreneurs needing hands-on instant access to persuasive & alluring key words, sentences, slogans and attention grabbers that will command attention from prospects and clients, and sell much more security products and services for you. Utilize these words on your website, in your ads, and in all your sales and marketing literature and watch your security sales skyrocket!
**If we cannot verify your company information and security business ownership, we will not ship your order and we will refund your purchase.**
*Secure Online Checkout*
So if you want to get started using the right words in all your online and offline direct marketing programs, order How To Write Seductive Security Sentences That Sell, Sell, Sell! for just $9.97! (this eBook will be sent to you via email in PDF format)