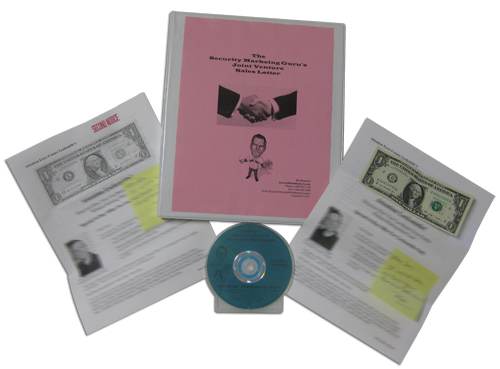 Want a Shortcut to Generating Lucrative Referrals?
Learn My Secret to Creating a $1,000,000
Referral-Based Security Business
After 25+ years in the security industry, with 20-20 hindsight and a clear present vision, it's obvious to me that, by far, THE most valuable skill is the ability to "sell via print," utilizing direct response marketing strategies. Forget inefficient "pick and shovel" manual labor selling strategies…they're not nearly as effective as direct response marketing and you will break your back doing it.
That being said, I'm going to give you a short-cut to getting lots more clients FAST and set you on the right path for making a whopping success of your security business.
Whenever I see one of those old Tarzan or "lost treasure" movies on TV, with the natives and guides tediously hacking their way through the dense jungle with dull machetes, sweating up a storm, I think to myself: imagine what those guys would have given for a chain saw?
Well, most security entrepreneurs and security salespeople work just as hard as those guys do – to get customers, to make sales, and to make ends meet – and, they too, are doing it with a dull machete.
The chain saw for a security or low voltage business is the ability to put words on paper that will bring you in tons of cash, fast….and that's what direct response marketing is all about!
Let's cut to the point here. I have a direct response marketing piece that I'm going to share with you. It's one of the most effective sales letters I've ever written and has brought me in well over a million dollars in sales. The letter targets market segments that your competitors would NEVER even think about targeting, so the field is wide open for you….and it's such a brain-dead-easy strategy to implement!
In a nutshell, this letter creates joint ventures with other businesses that have client lists that consist of your ideal clients. By creating a symbiotic relationship with the owners of these lists – so you can market to the lists – will provide you with massive profits!
You're probably wondering how the letter gets other business owners to give you the "okay" to market to their client lists? Well, they make out in the process, as well… the incentive is there for them. Believe me, it's a win-win situation for everybody!
Who can you joint venture with? Let me give you a few examples:
- Private Guard Services
- Locksmiths
- It Computer Geeks
- Electricians
- General Contractors
- High-End Builders
- Architects
- Carpet Cleaners
- Janitorial Services
- Home Sound/ Home Automation Dudes
- Lawn Care Professionals
- Fire Sprinkler Companies
- Private Detectives
- Plumbers
- Electronic Gate Installers
- Auto Mechanics
And the list goes on and on to include any business that shares a similar client base as yours!
How can you get your hands on this letter? Easy. (BTW, the letter consists of three pieces - a two page letter, plus a faxback form.) You can order it right here for the low, low price of $197.00
**If we cannot verify your company information and security business ownership, we will not ship your order and we will refund your purchase.**
*Secure Online Checkout*
So, if you want to get cracking on making your business a smokin' profit center, then I suggest you get your hands on my million-dollar-making, Joint Venture Sales Letter right NOW! For just $197.00
×
*Note: This kit is sold ONLY to Security & Low Voltage Dealers. Because you are buying intellectual property that can easily be copied, stored and used, once you purchase the kit, it is NON-REFUNDABLE. All pieces in this kit are sample pieces and will have to be edited to include your company name and contact information. The client testimonial handouts will have to have your own client testimonials inserted, please do not use the testimonials included. All pieces in this kit are either in MS Word or MS Publisher 2007.
These are copyrighted materials protected by strict copyright law! By purchasing the above material, you have a "limited use" of the printed materials, electronic materials, digital mastered copies and all content provided. "Limited use" being defined as: All printed materials, electronic materials and digital master copies that are provided by Security Marketing Guru to be used by the purchaser exclusively. They are intended for distribution to your company's customers, clients and prospects only. These materials are not intended, nor allowed, to be shared or distributed to any other persons or businesses. Reselling of printed and digital material is strictly prohibited. You are not authorized to share material in chat rooms or on the internet, nor circulate them within trade associations or other groups to which you may belong.
Damages, through legal prosecution, will be sought to the full extent of the law if any of the copyright rules set forth in the above paragraph are broken. Criminal and Civil action will be brought forth. Damages in the hundreds of thousands of dollars can be awarded, as well as payment of all legal fees arising from the suit. In addition, the government can criminally prosecute you for copyright infringement. If convicted, you can be fined up to $250,000, or sentenced to jail for up to 5 years, or both.