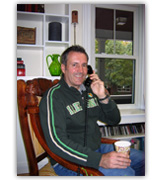 Many security professionals are awesome technically in their respective security niches, but fear the marketing aspect of their security businesses (which is the "lifeblood" of any business because it's what drives in sales.) You may feel frustrated trying to convince people to buy in a slow and down economy and need to learn how to START attracting pre-qualified customers who are ready to buy NOW.
Are You Looking For A Quick Start Solution?
If you want to "nip in the bud" years of dissatisfaction, frustration, annoyance and anxiety you undergo trying to make your security business a roaring success, and instead start making almost immediate gains in your business, by using my proven security marketing "tricks" you will have NO WAY of ever knowing otherwise, then this is the most exciting and important offer you will ever read!
So Here's the Deal...
Literally, the very quickest way to get "un-stuck" and take your security business to the next level is to let me pinpoint exactly what's going on that's holding you back in your security marketing efforts. And at the same time, I will also reveal specific new security marketing strategies you should be using and explain how to use them in your business. All this is done through a personal, one-one-one coaching call between just you and I where you can pick my brain on any topic you'd like (within reason)…In short, I'm yours one-on-one and we can accomplish some incredible things together! Each coaching call is recorded so you will receive an MP3 file of the call for your keeping.
- Personal one-on-one coaching calls are available in 30 minute sessions at $250.00 per session.
- To order more than one 30 minute session, please increase the quantity on the check-out page.
- Once your order is complete, one of my team members will email you a questionnaire that must be completed prior to the call.
*Secure Online Checkout*