Attention Security Professionals Looking to Gain Access to Lucrative Security Projects in the Following Commercial Markets:
• Property Management Firms
• Property Managers/Maintenance Managers/Facility Managers
• Condominium Associations
• High End Townhouses or High Rise Associations
• Luxury Retirement Communities
• Housing for the Elderly
• Nursing Homes
• Low Income Housing Projects
Bob Maunsell Divulges Some of His Most Profitable, Infallible Strategies for Creating Predictable Surges of Cash & Commercial Security Clients
Are You Looking For a Simple and Predictable Way to Lure In Qualified Commercial Security Leads?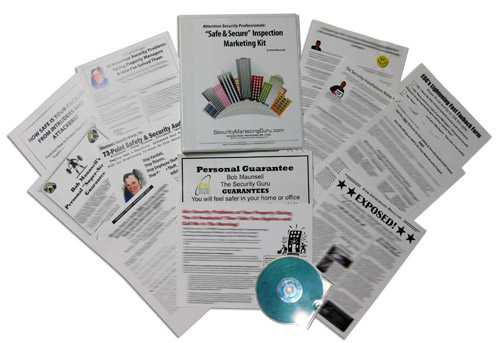 Let's take a sneak-peek at what's included in this kickin' commercial security marketing kit:
• Four (4) incredibly irresistible direct marketing letters (and response form) that entice your prospects and lures them to you by offering your proprietary FREE 73 Point "Safety & Security" inspection of their commercial property.
• Two (2) smokin' oversized postcards that do all the heavy lifting for you by intriguing your prospects with a very desirable offer for the FREE 73 Point "Safety & Security" Audit...that NO other security installer offers!
• My proprietary, commercial 73 Point "Safety & Security" Audit…the goose that lays the golden eggs (and sometimes silver ones, but we'll take those eggs, too!)
Because I'm such a nice guy, and want to position you as the very best and most knowledgeable security company around and the only one to call when your clients and prospects think safety and security, I'm going to throw in a few bonus items to make this a smokin' marketing kit:
• Bonus # 1: "10 Notorious Security Problems Facing Property Mangers and How I Solved Them" Report– Your prospects and clients will truly appreciate this free report that details valuable insider information that will save them time, money and security hassles. It is offered as an incentive in all four of the direct mail letters. You can hand out this free report to them after you've conducted the 73 Point Security Audit. Watch their faces when they realize how serious you are about their safety!
• Bonus # 2: "How Safe Is Your Facility From Intruders And Attackers?" Report – Your commercial prospects and clients will love this free hand out, too! It's also offered as an incentive in all four direct mail letters and highlights steps your prospects and clients can take to protect their facilities from traditional and modern-day threats (I also designed it to "soft-sell" your security services!) Again, see how they react when you hand out FREE information on how to protect their properties!
• Bonus #3: My Brass Balls Personal Guarantee and my Personal Super Strength Guarantee – These two pieces are the "Haymaker" for closing commercial and residential alarm systems. These guarantees make a promise to your prospects that is so powerful and so persuasive, that it breaks down the walls of resistance, creates a strong sensation of trust, and instantly puts your prospects at ease with you.
Now, as I've mentioned, the four direct mail pieces and the two oversized postcards all offer the FREE 73 Point "Safety & Security" Inspection that your wonderful security company will conduct. The safety inspection is easy to conduct…just run through the items on the audit. It's a 60 - 120 minute (depending on the size of the property) detailed audit of your prospects' commercial properties that will identify any and all security breaches and "hot-spots" they have and provide them with an iron-clad plan that will safeguard and protect their property from the threat of intrusion, invasion, forced-entry, vandalism, attackers, false accident claims and employee/vendor/customer theft.
There isn't a property/facility/maintenance manager around that wouldn't want to make sure their property (and tenants/employees) aren't "Fort Knox" protected from safety and security threats…and that's the protection YOU are going to give them! It all starts with YOUR 73 Point "Safety & Security" Inspection (that no other security installer in your area is offering or even has a clue about!)
All you have to do is send out the letters and postcards to a targeted list of property managers, facility managers, maintenance managers, in your area, and sit back and watch the calls, emails and faxes come in for the FREE 73 Point "Safety & Security" Audit.
Once you make the appointments, you will show up with your proprietary 73 Point "Safety & Security" Audit (you should also give a copy of it to the prospects because the "teaser" copy on the front page is designed to get them seriously thinking about protecting their properties and fearing if they don't!)
You will conduct the extensive audit of your prospect's facility (with the prospect present) and identify their security breaches, short falls and "hot-spots" that the audit will uncover and are inherent in every property.
The Bonus Handouts:
There are two bonus handout reports included in this marketing kit: 10 Notorious Security Problems Facing Property Mangers and How I Solved Them and the How Safe Is Your Facility From Intruders And Attackers? You will give both of them to your prospects and clients before leaving their facilities.
The three pieces combined (the audit and the two handouts) show …
• How knowledgeable and informed you are about security and safety
• How interested your company is in the safety and security of your clients and prospects, and
• How you take the time to educate your clients and prospects on their safety and security options, so they can make a well-informed decision prior to purchasing a security system.
….all earning you extra brownie points!
At this point, I'm sure you know what to do next….go back to the office and customize an estimate for your prospects. You may want to consider titling these quotes something like…
XYZ Security's "Safe & Secure" Proposal
and attached to it a copy of the 73 Point audit that you filled out. Also, be sure to insert the Personal Guarantee and Super Strength Guarantee in with your quote pack.
Educating and Informing Your Prospects and Clients Pays Off In Spades!
Your clients and prospects will absolutely love and devour the information included in this marketing kit. Yours will be the security company that they feel the very best about, and are the most comfortable with, and understands what they truly need…and the one they choose for their security needs!
Referral Stimulator
And when these fine client-folk think of security, your company will be on top of their psyches whenever the topic comes up!
A wonderful side-benefit of this marketing kit is all the pre-sold referrals you'll get because you did such a fantastic job educating and informing your clients and providing them with such a remarkable security system – one that addresses all their security needs and gives them true "peace of mind" - that they can't help but tell other colleagues, family, friends and others about you!
**If we cannot verify your company information and security business ownership, we will not ship your order and we will refund your purchase.**
*Secure Online Checkout*
Your investment for this smokin' "Safe & Secure" Inspection Marketing Kit is: $897 (with FREE Shipping)
×
*Note: This kit is sold ONLY to Security & Low Voltage Dealers. Because you are buying intellectual property that can easily be copied, stored and used, once you purchase the kit, it is NON-REFUNDABLE. All pieces in this kit are sample pieces and will have to be edited to include your company name and contact information. All pieces in this kit are either in MS Word or MS Publisher 2007.
These are copyrighted materials protected by strict copyright law! By purchasing the above material, you have a "limited use" of the printed materials, electronic materials, digital mastered copies and all content provided. "Limited use" being defined as: All printed materials, electronic materials and digital master copies that are provided by Security Marketing Guru to be used by the purchaser exclusively. They are intended for distribution to your company's customers, clients and prospects only. These materials are not intended, nor allowed, to be shared or distributed to any other persons or businesses. Reselling of printed and digital material is strictly prohibited. You are not authorized to share material in chat rooms or on the internet, nor circulate them within trade associations or other groups to which you may belong.
Damages, through legal prosecution, will be sought to the full extent of the law if any of the copyright rules set forth in the above paragraph are broken. Criminal and Civil action will be brought forth. Damages in the hundreds of thousands of dollars can be awarded, as well as payment of all legal fees arising from the suit. In addition, the government can criminally prosecute you for copyright infringement. If convicted, you can be fined up to $250,000, or sentenced to jail for up to 5 years, or both.