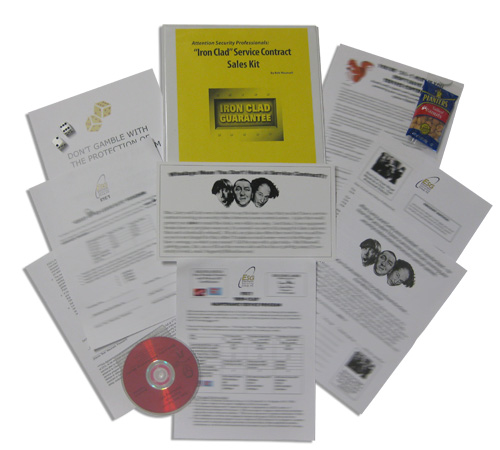 "Iron Clad" Service Contract Sales Kit
An Incredible Recurring Revenue Generator!
Do you offer your clients service contracts that cover their investment after the warranty period is up on the equipment you've installed? If not, that's a shame! Think of all the systems you've installed and the additional money you could be making, for years to come, by offering your clients an extended service contract. Believe me, you're missing the boat on a lot of recurring revenue for your security business....but not for long! I've put together an incredible package here that will provide you with a HUGE recurring income stream, from your existing clients, by offering and selling them on long-term protection for their security systems (through yearly service contracts.)
Five-Page "Iron Clad" Service Contract kit includes...
A cool cover sheet that uses subliminal messaging to get the ball rolling in your favor - at first glance!
A great cover letter, that also uses subliminal messaging. It speaks of the dangers of not having a service contract and highlights the primary benefits of having one.
My Iron Clad Service Contract with "Goldilocks" Pricing Scheme designed to target every purse in the universe!
BONUS PIECE: My Great Locked Labor Rate Program - a nice added "haymaker" that pre-sells blocks of labor hours for you!
Three-Piece Direct Mail Program for Selling The Iron Clad Service Contract Program and Great Locked Labor Rate Program includes...
T.J. Squirrel Sales Letter - A letter reminding your clients that they've had a security system installed, in the past year, that is going off of warranty and introducing your "Iron Clad" Service Contract Program.
3 Stooges Sales Postcard - warning your clients not to get stuck without your "Iron Clad" Service Contract Program.
3 Stooges Sales Letter - warning your clients of costly repairs and replacement costs and how they can get protected with your "Iron Clad" Service Contract.
Now, I won't lie to you...there's obviously going to be people who just aren't interested in a service contract....hence the reason for my BONUS PIECE: The Great Locked Labor Rate Program. It's a nice little income generator! It's designed to pre-sell blocks of labor hours for those who may not want a service contract, but would like to be able to save some money on labor rates.
With my "Iron Clad" Service Contract Program, I have created a special offer for your clients – one that is hard to refuse. By utilizing a "Goldilocks" pricing scheme, I have made it possible for all clients to be able to afford service contracts! Your clients will have a range of options/prices available to them that will fit any budget. Plus I've included some special and irresistible client bonuses...just for signing on the dotted line!
**If we cannot verify your company information and security business ownership, we will not ship your order and we will refund your purchase.**
*Secure Online Checkout*
To get your hands on this masterpiece, that will get your "foot in the door" for lucrative commercial security installations and upgrades, simply click the order button below!
Total investment of $497.00 (with FREE Shipping.)
×
*Note: This kit is sold ONLY to Security & Low Voltage Dealers. Because you are buying intellectual property that can easily be copied, stored and used, once you purchase the kit, it is NON-REFUNDABLE. All pieces in this kit are sample pieces and will have to be edited to include your company name and contact information. The client testimonial handouts will have to have your own client testimonials inserted, please do not use the testimonials included. All pieces in this kit are either in MS Word or MS Publisher 2007.
These are copyrighted materials protected by strict copyright law! By purchasing the above material, you have a "limited use" of the printed materials, electronic materials, digital mastered copies and all content provided. "Limited use" being defined as: All printed materials, electronic materials and digital master copies that are provided by Security Marketing Guru to be used by the purchaser exclusively. They are intended for distribution to your company's customers, clients and prospects only. These materials are not intended, nor allowed, to be shared or distributed to any other persons or businesses. Reselling of printed and digital material is strictly prohibited. You are not authorized to share material in chat rooms or on the internet, nor circulate them within trade associations or other groups to which you may belong.
Damages, through legal prosecution, will be sought to the full extent of the law if any of the copyright rules set forth in the above paragraph are broken. Criminal and Civil action will be brought forth. Damages in the hundreds of thousands of dollars can be awarded, as well as payment of all legal fees arising from the suit. In addition, the government can criminally prosecute you for copyright infringement. If convicted, you can be fined up to $250,000, or sentenced to jail for up to 5 years, or both.