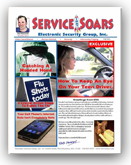 Service That Soars™ Quarterly Client Newsletter (printed version)
It's a newsletter for your clients and prospects that is the most powerful stay-in-contact tool in the world. I took my 14 years of "in the trenches" direct marketing experience and engineered an amazing tool that combined important information that clients and prospects WANT with several psychological "hooks" and many different response offers. Service That Soars™ is a ready-made system that helps BRING you new customers, referrals and repeat business – Guaranteed today!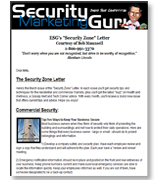 The Secure Zone™ Monthly Client e-Newsletter (electronic version)
The Secure Zone™ is a monthly, electronic newsletter for your clients and prospects that is completely "done-for-you". It's an incredible, stay-in-contact, referral producing tool that will bring you in a steady stream of new clients, repeat business and referrals on a monthly basis. Because it's in electronic form, this newsletter can quickly and easily be emailed out to all your prospects and clients!
Security Blogs Posts
Security Blog Posts are posts that provide knowledgeable security content, tidbits, news, etc for your prospects and clients to read that position you as the most knowledgeable, expert security company around. These posts can be used in several online and offline areas, such as:

• On Your Website Within A Security Blog Section
• In Emails You Send Out To Clients & Prospects
• Used As Posts Within Your Social Media Streams
• Included In Material You Give To Your Prospects & Clients
Email Support@SecurityMarketingGuru.com to discuss your blogging needs and options.