Reach Your Online Customers &
Boost Sales Through Social Media
If Done Right - The 4 Benefits Of Social Media
Promote Your Security Business

Drive Traffic To Your Website

Engage New Prospects & Customers

Build & Maintain Relationships

Increase Your Sales & Profits
Free Social Media Report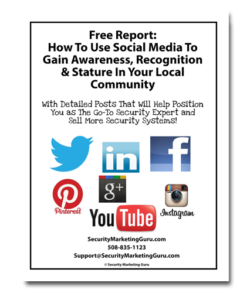 With BILLIONS of active social media users, it's no longer something any business can ignore. Nowadays, it's not if you do social media, it's when and how.
Social media will help brand your business, engage your customers, increase your sales, repeat business & referrals, build relationships with prospects & customers, drive traffic to your website and improve your SEO & online ranking in security-related searches… plus it's FREE!
For those of you who either want social media done-for-you or just want posting content and will do the rest yourself, we can customize a plan that's right for you and your business goals.