Only 2 Types Of Visitors Go To Your Website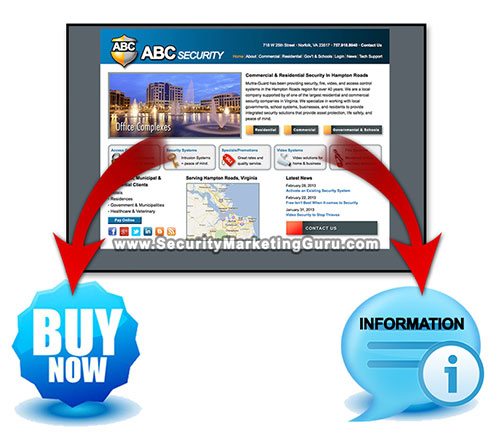 Almost every visitor to your website is either in "research mode" or "purchase mode" – meaning these folks are either looking for MORE INFORMATION about a security system or are ready to BUY NOW. It's imperative that your site be designed with seductive sales funnels & compelling marketing materials that attract and capture BOTH these types of visitors, otherwise your site is not doing what it's suppose to do – provide you with hot security leads.
Your site also needs to position you as the trusted Security Expert and the Go-to-Security-Guy (or Gal) in your local market. This positioning is mandatory to get your prospects to K.L.T. (Know, Like and Trust) you.
And that's exactly what a premium Smokin' Security Selling Website will do – provide you with seductive sales funnels & marketing pieces that will interest and capture your visitors (i.e. hot prospects), plus position YOU as the trusted, knowledgeable Security Pro in your area!
Content for About Us page, Testimonial page & Services page to be provided by client – content may be slightly modified by SMG.

Company logo, company images and proper contact information to be provided by client.

Client to provide SMG with hosting credentials (host provider, username & password) to upload new website.

All web pages are approximately 2-3 paragraphs in length.

All website projects are not to exceed 30 days. Therefore, content needed from client must be submitted within 8 days of purchase.

Each website has up to two (2) text edits entitled to the client that must be submitted (via email to SMG by client) within 7 days of the site being uploaded or else edits are forfeited.

If the client has not provided the necessary content and edits within 30 days, the website will be completed without any missing content, package into a .ZIP file, and submitted to client "as is". No Refund will be issued.