Solving Security Problems Letter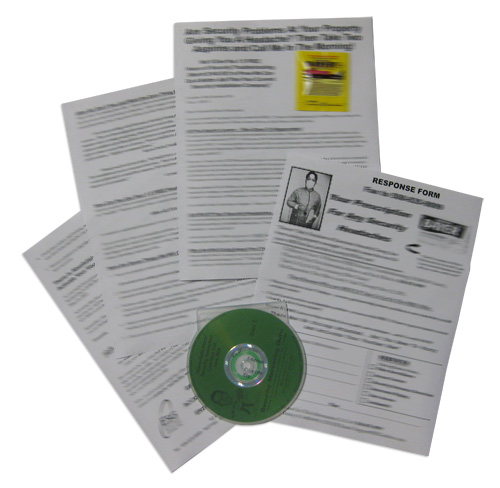 "Solving Security Problems, Once and for All"
Sales Letter for the Commercial Market
This three-page letter (plus one-page response form) targets the commercial market, like property managers, facility managers, nursing home managers, assisted living facility managers, low income housing project security managers, industrial facility managers, plant managers – anyone that oversees the security needs for their properties.
These target markets have a huge need for security and suffer greatly if their systems are not properly designed or installed, are faulty, not working, broken down, or the security company that they used is no longer around or is not responsive to their needs.  All making these markets "ripe for the plucking" and areas where your security business can really stand out and shine…with the right message to market match.  Hence the genesis for this letter!
The letter's headline says it all:
"Are Security Problems At Your Property Giving You A Headache? Then…"
Sorry.  We have to cut the headline a bit short.  We don't want to give away the incredibly irresistible offer that will get your phone ringing off the hook! However, once the recipient receives your offer and takes your "aspirin," they'll be cured of all their security headaches and problems, once and for all!  This letter will position you as the security expert and offer proof that your security company can do a better job than the currently used security installation company!
HOW TO ORDER…
To get your hands on this masterpiece, that will get your "foot in the door" for lucrative commercial security installations and upgrades,  simply click the order button below!
The cost for the three-page letter plus one-page response form is $297 (with FREE Shipping).
*Note: This kit is sold ONLY to Security & Low Voltage Dealers. Because you are buying intellectual property that can easily be copied, stored and used, once you purchase the kit, it is NON-REFUNDABLE. All pieces in this kit are sample pieces and will have to be edited to include your company name and contact information. All pieces in this kit are either in MS Word or MS Publisher 2007.
These are copyrighted materials protected by strict copyright law! By purchasing the above material, you have a "limited use" of the printed materials, electronic materials, digital mastered copies and all content provided. "Limited use" being defined as: All printed materials, electronic materials and digital master copies that are provided by Security Marketing Guru to be used by the purchaser exclusively. They are intended for distribution to your company's customers, clients and prospects only. These materials are not intended, nor allowed, to be shared or distributed to any other persons or businesses. Reselling of printed and digital material is strictly prohibited. You are not authorized to share material in chat rooms or on the internet, nor circulate them within trade associations or other groups to which you may belong.
Damages, through legal prosecution, will be sought to the full extent of the law if any of the copyright rules set forth in the above paragraph are broken. Criminal and Civil action will be brought forth. Damages in the hundreds of thousands of dollars can be awarded, as well as payment of all legal fees arising from the suit. In addition, the government can criminally prosecute you for copyright infringement. If convicted, you can be fined up to $250,000, or sentenced to jail for up to 5 years, or both.