Solving Security Problems Letter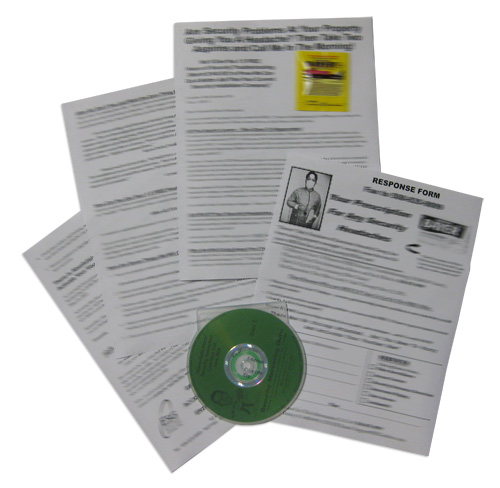 "Solving Security Problems, Once and for All"
Sales Letter for the Commercial Market
This three-page letter (plus one-page response form) targets the commercial market, like property managers, facility managers, nursing home managers, assisted living facility managers, low income housing project security managers, industrial facility managers, plant managers – anyone that oversees the security needs for their properties.
These target markets have a huge need for security and suffer greatly if their systems are not properly designed or installed, are faulty, not working, broken down, or the security company that they used is no longer around or is not responsive to their needs.  All making these markets "ripe for the plucking" and areas where your security business can really stand out and shine…with the right message to market match.  Hence the genesis for this letter!
The letter's headline says it all:
"Are Security Problems At Your Property Giving You A Headache? Then…"
Sorry.  We have to cut the headline a bit short.  We don't want to give away the incredibly irresistible offer that will get your phone ringing off the hook! However, once the recipient receives your offer and takes your "aspirin," they'll be cured of all their security headaches and problems, once and for all!  This letter will position you as the security expert and offer proof that your security company can do a better job than the currently used security installation company!
To get your hands on this masterpiece, that will get your "foot in the door" for lucrative commercial security installations and upgrades,  simply click the order button below!
The cost for the three-page letter plus one-page response form is $297. Click Here to Buy Now