Bob, you inspired me to think of that. I've created websites for my businesses before but I've always struggled to come up with a URL that was memorable. Art Dunn Alarm Company would have been far too easy to forget!
Somewhere you had mentioned that an easy to remember and descriptive URL (I think it was a plumber in one of your newsletters) would be far superior to simplfy the company name.
Largely because of your coaching I've designed and built this whole company around the answer to a prospect's questions- "why should I do business with you and why are your services worth so much more than the next guy?". The answer is in the URL- we catch bad guys!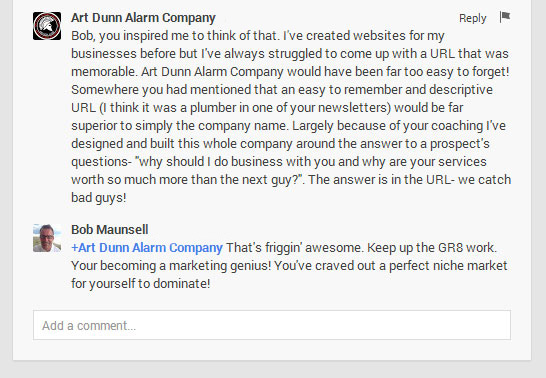 Listen To What Art Dunn Has To Say!

Art Dunn
Art Dunn Alarm Company
Modesto, CA